EXPLOSION ROCKS GUBER ASPIRANT'S CAMPAIGN RALLY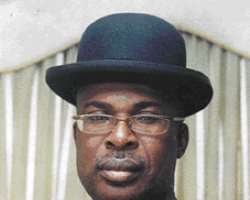 There was pandemonium on Wednesday in Yenagoa when a dynamite explosion rocked the campaign rally of a gubernatorial aspirant on the platform of the Peoples Democratic Party (PDP), Bishop Beinmo Rufus Spiff.
Many people who came to witness his formal declaration to contest the primaries of the PDP held at the Opolo school field sustained serious injury while they were scampering for safety.
The event billed to start around 10 am did not commence until about 3p.m. when security around the area was beefed up with mobile policemen and soldiers from the Joint Military Task Force (JTF) providing security.
He was about to address his supporters when the explosion went off causing a stampede with many people sustaining injuries.
Beinmo, who had been confined into a wheel chair since 2003 as a result of motor accident, stood where he was while his supporters formed a ring around him.
After about 10 minutes his supporters mobilized people back into the arena and Beinmo in a hurried speech declared that he would not be intimidated in his quest to contest for the governorship of the state.
He implored his supporters to ensure that they register and insist that their votes count in the general election, stressing that the era of rigging had gone.
The Commissioner of Police, Bayelsa State, Mr. Aliyu Musa who confirmed the incident lamented that politicians using hoodlums wanted to make the state difficult for the people. He said security was beefed up at the arena, noting however that from investigation it was gathered that the area was porous making it possible for the masterminds of the explosion to succeed.
According to him, he had ordered the deployment of bomb experts to comb the area and ensure that residents were safe. Musa appealed to politicians in Bayelsa not to see elections as a do-or-die affair since their mission was to go and serve the people.
His words: 'Yes I can confirm that the incident happened. Honestly, politicians want to make things difficult for us. There was security there but the area is porous giving room for the hoodlums to do what they did. I have deployed bomb experts there to ensure the safety of the people.
'I want to appeal to politicians not to see elections as a do-or die affair. Since they want to serve the people they should conduct themselves peacefully instead of creating tension in the state.