NNPC OWES FUEL IMPORTERS $3.3 BILLION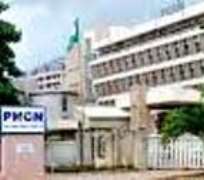 PHCN Office
The Nigeria National Petroleum Corporation (NNPC) owes petroleum traders who imported fuel on its behalf a staggering $3.3 billion or N500 billion, Daily Trust learnt from industry sources in Abuja yesterday.
The accumulated amount was as a result of the supply of refined fuels to the NNPC by the marketers. As at July, the NNPC owed them $4.9 billion or N735 billion.
Despite efforts and intervention by the federal government to assist the cash-strapped corporation to settle the marketers, the debt profile at the moment remains at $3,343,952,869.53.
Local and foreign importers get quarterly fuel importation contracts from the NNPC through its subsidiary, the Pipelines and Products Marketing Company (PPMC), and payment is supposed to be made 45 days after the notice of readiness for vessel to discharge at Lagos offshore is received.
Documents shown to Daily Trust indicated that in September, President Goodluck Jonathan waded into the NNPC's debt crisis and approved a $2.5 billion loan to NNPC in order to reduce its debts. NNPC had promised to add $600 million to the borrowed amount in order to pay off the debts, but it did not do so.
'In NNPC's request to Mr President, NNPC claimed it had $600 million to add to the President's approval of $2.5 billion thereby making the sum of $3.1 billion…. the President signed during 2nd week of September. NNPC paid $2.611 billion out of the approved $2.5 billion and $600m leaving the sum of $500m which represents payment of batch 345-360.'
The marketers also complained that the Corporation has recently engaged in selective payment to some marketers which are not on the queue for payment.
'It is surprising that no further payment was made until November when NNPC decided to jump batch 362-365 and pay $99 million (N14.8 billion) to the following marketers  under a special deal best known to them: Pennington Energy Trad- $23,109,645.24, J&S Services and Investment Ltd- $28,293,908.48, Performing Energy Trade Company -$24,128680.66 and J&S Services and Investment Ltd $24,229029.60'.
When contacted for his comments, NNPC's spokesman Dr. Levi Ajuonuma said the corporation is not willing to speak on the issue.
However, Executive Secretary of the Petroleum Products Pricing Regulatory Agency (PPPRA) Mr Abiodun Ibikunle recently said that this year alone, the Agency has paid NNPC over N240 billion ($1.6bn) as subsidy for petroleum products.
The companies being owed by NNPC at the moment include Addax Energy SA,  AOT Trading AG, Arcadia Petroleum, Astana Energy Corp, BP Oil International, Calson (Bermuda Limited), Delany Petroleum, Elan Oil, Glencore Energy, J&S Services and Investment Ltd, Le-Gor Energy, Linetrale Oil and Services, M.R.S. Oil & Gas, Mid Atlantic and Matrix Energy.
Others are Napoil Ltd, North Petroleum, Oil & Gas Trading Co, Pennington Energy, Performing Energy, Petroldel, Shell Western, Sullam Voe, Total Int'l, Trafigura Beheer BV, Vitol SA and Trading Company.
For most of this year, NNPC was mired in debt issues variously with the Federation Account Allocation Committee (FAAC) and assorted fuel marketers. Daily Trust learnt that the debt crisis between the NNPC and its marketers is raising dust and is capable of causing instability in the downstream oil sector in the near future.
Recently, NNPC's three refineries were shut down due to attacks by vandals on the pipelines that connect them to the crude oil wells, thereby making the country to rely totally on imported fuels.   NNPC is the major supplier of refined fuels into the country, supplying over 60 percent of the nation's requirements.
Earlier this former, the former Minister of State for Finance Remi Babalola said the corporation was bankrupt, but NNPC's management and the Federal Executive Council countered that, saying its accounts were in the black.