OTUDEKO QUITS AS FIRST BANK CHAIRMAN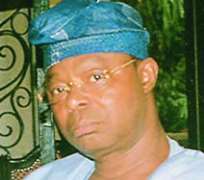 Oba Otudeko
The wave of the ongoing banking reforms of the Central Bank of Nigeria(CBN) finally berthed at First Bank of Nigeria Plc Thursday as its Chairman,Dr Oba Otudeko has relinguished his position.
According to a source, Otudeko voluntarily retired from the board of the bank having spent the mandatory 10 years as stipulated by the apex bank's new policy that no bank director should spend more than 10 years on the board.
It would be recalled that the policy led to the retirement of three bank bank CEOs last July.The affected bank chiefs were Mr Tony Elumelu of UBA; Mr Jim Ovia of Skye Bank and Mr Akinsola Akinfenwa of Skye Bank Plc.
The policy was introduced by CBN in order to entrench good corporate governance structure in the banking system in order to eliminate what the CBN Governor, Mallam Sanusi Lamido Sanusi, called key man scenario.
Born on 18th August 1943, Oba Otudeko who is currently chairman of the Nigeria conglomerate, Aitel started his career as a banker at Cooperative Bank Plc., Ibadan in 1960. Professionally, he is a Fellow of the Chartered Institute of Bankers, UK; Fellow of the Institute of Chartered and Corporate Accountants, UK; Fellow of the Institute of Chartered Accountants, Nigeria and Fellow of the Institute of Chartered Secretaries and Administrators of Nigeria.
An astute and highly visionary investor cum entrepreneur, his domestic and foreign interests cut across diverse economic sectors. In September 2006, he was elected the 16th President of the Nigerian Stock Exchange thereby assuming the responsibility of inspiring step change transformation of the Nigerian capital market.