My Nollywood debut: The making of 'The Return of Jenifa'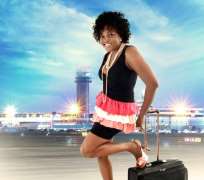 When friends alerted me that they had seen my face on national television, I went out and purchased Funke Akindele's latest completed film, Omo Ghetto. Sure enough, The Making of 'The Return of Jenifa' teaser advert appeared before the opening credits (pay attention around the 0:40 mark). Since I'm not tech-savvy enough to upload the advert to YouTube, above is a fan re-mix of the original, so please excuse the substandard video and sound as well as the out-of-order sequence. I will replace it immediately once the original advert becomes available online.
Per my conversation with Funke before Christmas, The Return of Jenifa will hit theaters around Easter 2011.
On a side note, I purchased Omo Ghetto (which is divided into 4 DVDs) for N600, which is N100 above the official price (per Funke). Either I got the oyinbo special, or demand once again is outstripping supply in the Nollywood DVD marketplace.