CCH BRINGS DORIS SIMEON TO UNILAG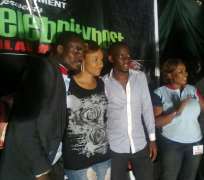 The much awaited and highly publicized debut edition of the Campus Celebrity Host (CCH), UNILAG Debut edition took place on Friday December 17, 2010 at the Arts Theatre, Faculty of Arts, University of Lagos (UNILAG), Lagos with multiple award winning Nollywood actress, Doris Simeon Ademinokan as the guest for the night, this took place amidst pomp and pageantry.
The event which started around 3.05pm had a lot of upcoming acts display their prowess and their dexterity on stage, as they come on board one after the other to give hope not only to the entertainment industry in Nigeria but to the future of Nigerian youths.
Artistes like Maxim, Tigu,J-Pryce, Slim Bally amidst others lit the stage with scintillating performances while Unique Steppers had a field day as the only dance group on board, Baba-De-Baba showed why is one of the highly sought after comedian with his joke that got Doris laughing continuously while the event was anchored by PK, an MC/Comedian extra-ordinaire. Other high point of the day were during the dancing and rap competition, the crowd continuously went agog for one contestant or the other, it was fun all the ay as the winners were presented with perfume and T-Shirts courtesy Ballywalls Entertainment.
UNILAG students had had to vote for any of their preferred celebrities in the pool of the selected celebrities: Terry G, Doris Simeon, Funsho Adeolu, Sasha, Ini Edo, D.J Zeez, Eldee and Pasuma, behold Doris Simeon and Eldee came out top amidst others but Doris eventually had the final shot as the first celebrity to be hosted by UNILAG students courtesy CCH.
The 2007 AMAA Award winning and very beautiful damsel, Doris Simeon Ademinokan.Doris was a delight to see, listen to and learn from,she lifted students spirit and corroborated the need for Nigerian youths to continue to be resilient, hardworking, prayerful and active in community development activities.This is aside a lot that students got to know about her life and her very private life including how he met her hubby, Da Bishop.It was a day so interesting to remember by participants and other stakeholders.
Wale Balogun, the MD of Ballywalls Entertainment had this to say" I am impressed by the turn-out, I was initially sceptical despite the fact that the show is free, it was the last day for academic activities on campus,but we thank God, everything went well, I thank God for that", he said.
The fulcrum of the programme is not only to celebrate celebrities but to keep the Naija spirit which is synonymous to courage, hard-work, perseverance, focus, determination, creativity, doggedness, never-say-die etc alive on and off campus.
The objectives of CCH are to first and foremost connect the students live and direct with celebrities and role models, to enliven social activities on campuses, inspire youth and keep the Naija Spirit alive, create a unique platform for students to converge and interact positively.
The Project Director, Alayande Stephen T. said, "well expectedly we had our challenges but for the UNLAG edition, we have successfully done it and apart from the fact that our celebrity came in late largely due to the heavy traffick on the said day, every other thing went accordingly, we appreciate her for making it and for allowing students of UNILAG to tap from her reservoir of knowledge. Please, watch out for another blockbuster CCH Valentine special edition come February 2011. For all our supporters, collaborators and partners, on behalf of Ballywalls Entertainment andf the entire crew of CCH, we say thank you and God bless" he posited.
CCH is conceptualized by Ballywalls Entertainment, proudly supported by Zmirage Multi-media Ltd, Red Carpet Entertainment, TOTAL Recall Media(REEL E), Inventive House, Street Point Ltd, Black Image Productions, Acada Magazine, E-24-7 Magazine, D.J Ballykleff amidst others.
Alayande Stephen T.
Project Director