I WANT TO REST MY BODY FROM MEN -UCHE IWUJI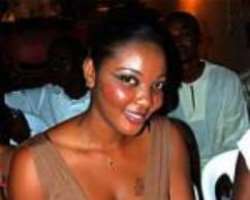 Uche Iwuji has appeared in movies like My Heart Desire, One Way to the Top, He Lives in Me, My Conscience, Mortal Sins, Beautiful Faces, My Dream, and many more. She is a graduate of sociology from the University of Lagos and began her movie career in 2000, having been discovered by Zeb Ejiro. Patrick Uwalaka took her up on why she has been falling in and out of relationships and sundry issues
Uche, how has acting been for you?
It has been fun and I have not had any regret becoming an actress.
How challenging has it been?
I would say that when I first started it was a bit difficult trying to break in but now I have seen the way to follow and it is no longer difficult.
What were the sacrifices you made for you to get to where you are today?
I just acted till I ran out of movie scripts.
What would you say has been the most challenging role for you as an actress while on stage?
It has to be on the set of Passion and Pain, where I played along-side Desmond Elliot, Emeka Ike, Genevieve Nnaji and Ramsey Nouah. It was really an eye-opener for me being on the big stage with these big actors.
How have you been managing fame and stardom?
My publicist has always been there for me, telling me what it takes to avoid trouble and negative news. I have also spent a lot of money to ensure that I dress well.
But you are said to be one of the most controversial actresses in Nollywood.
It has to do with the media. But what can I do if I am being reported frequently in the papers. If not me directly, it is either the guys I have dated or something or someone close to me is the reason why they are writing. So, what can I do than to watch and see what comes out of it?
How do you feel when people read nasty things about you?
I always feel bad when such happens. I am only human. I guess I just have to sit up and move forward.
One of those scandals was the nude picture of you seen on mobile phones all over Lagos. How did you feel?
I felt bad when it hit the mobile network. It was just a mistake because it was a stolen phone that I lost and it was through that means that the picture circulated all over Lagos.
Was it really you in the picture?
Yeah, something like that, but I don't really want to talk about it again.
Why are you still single?
Is it easy to see a man who is ready for marriage? The guys just come to have fun and after that they take to their heels, so it takes time for you to get the right person.
So are you not a fun loving woman?
I am but that doesn't mean that I would be one for the rest of my life.
What do you think you are not doing that will make you tie them down and keep them?
They are the ones who will do that and not me. I am ready if they are and if not they can continue running.
What do you look out for in a man?
He has to be God-fearing, responsible and hard working. But these boys who want to have fun just come and catch their fun and are out faster than you can imagine.
Would you still date a man for the fun of it?
No, I am tired of those kind of people. I want a man who is ready for marriage and not one who wants to catch his fun and later dump me.
Are you in any serious relationship at the moment?
No I am not.
Why are you not in a relationships?
I am tired and want to rest my body.
Have you done any major work this year?
I have not done any movie this year, but I am thinking of doing a soap soon.
How is your normal day like?
I wake up, wash my face, apply my face cleansers and later do all that a woman would do to stay clean, fresh and healthy.
Who is the real Uche Iwuji ?
Uche Iwuji is a cool girl, loving and down to earth person who would not hurt a fly.
But people say you are bad?
I am not a bad girl. Why would people see me as such?
What fond memories do you have of your childhood?
I had a wonderful, time in Lagos; I was born and brought up in Lagos.
How would you rate your achievement as an actress?
It has been lovely, but I really want to do more movies and maybe Hollywood would one day beckon on me to have a lead role there.
Would you say you have given your best as an actress over the years?
I believe that I have tried my best but I still want to try more.
Tell us something about this famous tattoo of yours. When did you decide to have a tattoo on your bust?
It all about entertainment. There is nothing more to it?
Do you entertain people with your tattoo?
(Laughs) it is all about entertainment and I have nothing more to say about it.
How long ago did you have this tattoo on your bust?
Six years ago.
What was at the back of you mind when you got the tattoo?
Like I said it was just about entertainment and nothing more.
Was it all about putting men on the hot seat?
No, it just attracts attention and coupled with the kind of work I do, it just fell into place that a tattoo on me is normal.
Is there any other tattoo on your body?
No. I just have one tattoo.
What is your philosophy of Life?
Be yourself at all times and the good things of life will come to you.
You are seen as one of the hottest girls on the Island in Lagos, how true is this?
I don't know which one is hottest girl; I am just like the next girl on the street.
What doors has being an actress opened for you?
So many doors that have brought fortune to me. At times you don't get to suffer if you enter a banking hall, petrol station and all that. People would want you to just jump protocol and get star treatment.
What would you say has been your happiest moment in your life?
It has to be my career as an actress in Nollywood, we are being celebrated.
What is your most expensive piece of property in your possession?
My car, it is a Mazda product and I love it so much.
For how much did you buy this car?
It is expensive but I wouldn't tell you how much it cost me.
Was it one of your boyfriends that gave it to you?
No. I work hard to earn a living, so why would I depend on a guy to buy me a car.
Have you ever dated a white guy?
I have them as friends.
What does life mean to you?
Without life you cannot breathe nor survive, so life is something very valuable.
How would you define friendship?
For me, you just have to know the kind of people you want to make friends with because some people are out there to ruin you. So, you have to take your time to make friends because this same friends will kill you behind your back.
What is your most priced possession?
My legs because they are hot and guys have not stopped taking their eyes off them.
You are growing bigger with each new day, haven't you been watching your weight recently?
I travel a lot and I eat so much these days. It has not been easy for me but I am trying to cut down on my weight, I know it is a serious issue as an actress, so I intend to do something about it.