ODEDEJI, MD, CROWN CAKES MY FAMILY FIRST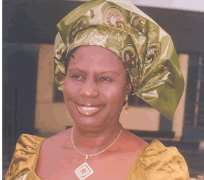 Odedeji
For Mrs Adeola Odedeji, life has been a roller coaster. It was a three-tier event for her recently in her Festac residence. Having enjoyed a fulfilling career as a secretary in a blue chip company after two decades and half of meritorious service, she was honoured by her former employers. Lucky enough, her retirement coincided with her last daughter's graduation from the University of Lagos (UNILAGP) as a pharmacist and to cap it all, she celebrated her 55th birthday.
Upon retirement, Mrs Odedeji, who is also a cake designer, falls back on her creative ingenuity, cake designing as well as enjoying the company of her grandchildren. Certainly, there can be no sweeter songs of fulfilment for the Odedejis.
In this interview, the creative hand behind Crown Cakes in Festac Town, Lagos, took a trip down memory lane on life, career, motherhood, as well as giving a panacea on hoow best to succeessful marriage.
Can you provide us with a clue to your background?
My name is Adeola Odedeji. I was born some 55 years ago in Jos. I attended my primary and secondary schools in Plateau State, but my father thought that since I had grown into maturity, I might end up marrying an Hausa so to prevent that, he pulled me out of Jos. I came down South where I worked briefly with the Nigeria Customs Service an a preventive officer.
What does a preventive officer do?
Now, things have changed and designations have also changed. In those days, they were called preventive officers. Their duty was primarily to prevent smuggling. We were like the anti-smuggling squad. We worked at the airports, searching to see what ought to be carried and what not to be carried by passengers. We cleared peoples' goods..
I left the Customs and went to The Polytechnic, Ibadan where I read Secretarial Studies. After that, I worked at Leyland in Ibadan where I met my husband, John Odedeji, We got married in 1979.
We moved down to Lagos and I started working with Beecham Ltd. I have three daughters.
How has it been working for all these years?
It's been a joyful trip but salaries have not always been enough so to aurgument, I have had to do business on the side. A Zambian friend of mine taught me how to make banana cake, even though, I had learnt the rudiments of baking cake from my mother. While I was working, my colleagues were patronizing me then, it gradually grew into a real business. Upon retirement now, I have taken to full-time cake making business.
My business line is called Crown cakes
Give me a sense of what it was for you working as a secretary and keeping the home?
It wasn't easy at all. In fact, resuming at work as early as 8 o'clock and having to put together the kids for school was most difficult but fortunately, I had always had maids to help out with all of that. They were always there to take them to school and bring them back as well as helping out generally.
It is often said that children who are taken care of by housemaids lack motherly care.
How did you strike the balance?
I made sure I came back from work as early as I could. However, I was not that kind of secretary that worked late. I thank God that because my boss understood that I had young children. I always tried to see that we did their home work together. With the little time I had, I did the best I could to be with my kids as a mother.
That was how I struck the balance because it is very important for every parent to have a good relationship with their children
In all the years you worked, which took priority, your family or your job?
Of course, my family had always come first but sometimes, you do have to compromise. I do have to make a compromise. Looking on those days, I would say that maybe that was what robbed me off that edge. I didn't work know how to work on weekends but sometimes I did. However, when my kids grew older and had all gone to secondary schools, I began to focus more on the job. I had enough for the job but I must say that it was pretty tough during their younger days because my husband was also a marketer
He was always on the road. At times, for three or four months, he was outside the country so I was always home
What would you say were the core elements that kept your marriage as a secretary and a marketer as a husband?
It is essentially because of patience. It takes a lot of patience and sacrifice. Most men have the notion that any man who calls you might just be a boyfriend. Even, when my boss calls at times, he feels so. There were times my boss would call me first thing in the morning either to give me an assignment or to remind me of something, it could elicit some level of agitation and I would have to explain. It takes a lot of patience and a lot of explanation. Without these, we could never have made it because there were times, I thought of throwing in the towel but when you remember the kids, you would change your mind because you don't want it that way
Even, when my daughter has issues with her husband, I will call her and tell her that patience is the the key to successful marriage. I also remind her that there is no vacant room for her in my house because that was exactly the same sermon my parents handed down to me when I was getting married. Aside from patience and understanding, prayer is the ultimate key. A mother never ceases to pray
What is motherhood to you?
It gives me a sense of fulfillment and great joy
You are a mother of three daughters, can you recall whether or not your husband was present in the delivery room when you had your babies?
Certainly not, he wasn't there
So, what was going through your mind when he wasn't there to encourage you?
Ah, with all the pains, I said if only this cup would pass over me, I wasn't going to have another child because it was too painful. For the second child, he wasn't there, too but for the third child, he was determined to witness it. and maybe for some stroke of luck, the child refused to come out. I don't know what it was but the baby just wouldn't come out. Then, when they saw that it was taking longer than necessary, the doctor opted for ceaserean section. They gave me time to prepare and my husband decided to go for a walk but as he just stepped out, there was a sudden twist of fate. As soon as he left, the baby just came. So, again, he failed to witness it even as he tried to be there. Such was the trick nature played on him
In your five and half decades of working career, could you briefly capture what fulfillment means to you?
Fulfillment means having to retire, still feeling well, being alive and happily enjoying being a grand mother. It also means having to be upgraded to a managerial position after 22 years on the job. I am happy that I found fulfillment towards the end of my working career because they gave me more responsibilities as a personal assistant which they call executive secretary
It was very interesting as well as being a grand mother. It is a privilege from God because there are some of my mates who are not yet grand mothers. It is not every woman that have the opportunity. And to think that my mother is alive and a great grand mother makes me happier.
She is 72
Why do you think that marriages break down more these days?
Marriages break down more these days because of the financial difficulties many families are facing today. In most instances, the women earn more than men. And because they can marry the idea of being the financial power and at the same time, having to be submissive to the man even when he can't provide enough. But whether he earns little or nothing, he is still the head of the family. Women must lean to be patient in the face of all odds and try to understand when things get rough with their men and should be able to adjust. It is not easy though, but you must find a way around it because a man is the crown of the woman
Tell me, what it means for you not to have a son?
I didn't have a son and so having a son-in-law means a lot to me. Having a grandson automatically feels the gap for me and that is the reason being a grandmother remains one of the most fulfilling part of my life
Does it make you feel bad that you don't have a son?
Yes, it certainly does. I feel slightly bad not having one because my husband had had a son before we got married and I actually wanted to have a son, too. So that at least, he would also bear the family name because of course, my daughters can't carry on with the family name. But much as I tried, it wasn't possible so I gave up
In all your years of working, could you recall a time when you almost threw in the towel, either because salary wasn't good enough or for pressure of work?
Yes, like I said, the salary was never enough and coupled with the pressure of work, I actually thought of leaving but then, I always had to engage in small business of buying and selling some stuffs to make ends meet. In fact, I actually had thought of resigning but I changed my mind eventually because even people would tell me that it is not easy outside and that there was no better or more paying job else where so I simply jettisoned the idea
Could you recall some of the golden moments you had while in service?
Yes, of course. There were some golden moments. Like I said before, towards the tail end of my career, I was given more responsibilities which helped to expand my horizon. I had the opportunity to travel to Dubai for an international seminar and that meant a lot to me because before then, I never went for a foreign trip before and it was a big platform for me. I also enjoyed making cakes for all our staff
I understand that secretaries most often than not know their bosses' heart. Tell me more about that?
I certainly did. I knew my boss' heart. I say so because I worked so closely with him. It is only the secretary who can tell exactly his boss' mood at any point in time. I knew when my boss was in a good or bad mood. Secretaries know the secrets of their bosses. I knew everything about my boss but because it is essentially confidential, I only helped him keep his secrets
While you were unmarried, didn't you at any point think that your choice of career could debar you from getting married?
Well, my husband met me as a secretary and he never really objected to it. However, during the early days of our marriage, there were times got worried about certain things but not anymore. I think there were times some kind of strains set in and I think because we were quite young. Now, we have both grown more matured and have also earned each other's confidence over the years.