HOLBROOKE: WHAT DIPLOMATS MEAN TO A NATION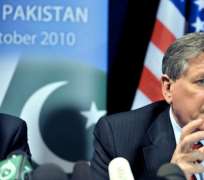 Some people are more the face of a nation than its Head of Government. Diplomats fall into the category. It is a reason many across the globe may remember someone like Professor Ibrahim Gambari, the UN Under-Secretary-General for Political Affairs, better than Nigeria's leader. His kind are diplomats, symbols of a nation among those who jaw-jaw on the international stage, and even among them, each diplomat is remembered for something. Every man will be remembered for something; the very thing that comes to mind when his name is mentioned.
Richard Holbrooke was from the United States of America, everyone knows that. The diplomatic circle remembers him, among other things, as a man whose image loomed like a Henry Kissinger's; he was a latter day Kissinger. Now Kissinger is still in his corner, but Holbrooke is gone. The man died at the age of 69. It followed a surgery for a tear in his aorta. At moments like this, it is fitting to take a look at the lives of men, examine what they met, what they meant for the system in which they served, and what they left behind. Some of this could be gleaned from the mouths of men they left behind.
President Barack Obama spoke from the highest podium on the world stage about this veteran U.S envoy. Holbrooke was "a true giant of American foreign policy," he said. And he was not done. He is "a truly unique figure who will be remembered for his tireless diplomacy, love of country and pursuit of peace", he deserves credit for much of the progress in Afghanistan and Pakistan, the president added. He was not alone. The father of shuttle diplomacy has words to utter. "If Richard calls you and asks you for something, just say yes," former Secretary of State Henry Kissinger once said. "If you say no, you'll eventually get to yes, but the journey will be very painful." Former President Bill Clinton was not left out: "Richard Holbrooke saved lives, secured peace and restored hope for countless people around the world." And as for his wife, the U.S Secretary of state, Hilary, she said Holbrooke was one of America's "fiercest champions and most dedicated public servants."
Holbrooke began his career when he was posted to Vietnam in 1962. He was also a member of the U.S. delegation to the Paris Peace Talks on Vietnam; It was one in a series of steps in the building of a diplomat with negotiating skills. He was involved with Lyndon Johnson's White House, after which he began to spend time in and out of government. He was Peace Corps director in Morocco, edited at Foreign Policy and Newsweek magazines, and he served as an adviser to Jimmy Carter's presidential campaign. From 1977-81, he was Assistant Secretary of State for Asian affairs after he which he returned to private life, working with Lehman Brothers. He was a Democrat and he returned to public service in 1993 when Bill Clinton came to the White House. He was U.S. ambassador to Germany from 1993 to 1994. Then he served as Assistant Secretary of State for European affairs. Part of his major achievements was the brokering of the Dayton Peace Accords; it ended the war in Bosnia. He took up a job with Credit Suisse First Boston in 1996, and even as a private citizen he served as a special envoy to Cyprus and then the Balkans. In 1998, he negotiated an agreement with Yugoslav President Slobodan Milosevic to withdraw Yugoslav forces from Kosovo, where they were accused of conducting an ethnic cleansing campaign. Holbrooke later went to Belgrade to declare the final ultimatum to Milosevic to leave Kosovo or face NATO airstrikes. The airstrike eventually took place. In 1999, Holbrooke returned to public service as U.S. ambassador to the United Nations. He supported Hillary Clinton's bid for the White House, but later linked up with Barack Obama whom he served as a special envoy to Afghanistan. This role his death has left for another to fill. There is no doubt that Holbrooke's career was one that didn't start yesterday. It dates back to even John Kennedy's era, helped along by a system that systematically builds diplomats. There is a connect between the systematic building of a diplomat to the standing, prestige and influence that a nation enjoys on the international stage. Nations build their presence among comity of nations using various prongs. Respected diplomats who have negotiating skills is one of these. It is the reason some names are so credible that two quarreling nations will agree to have them mediate at a peace table. The role of diplomats such as Holbrooke cannot be overlooked in a nation such as Nigeria that wants to reposition itself. The reason is because they contribute much more to a nation's status and the respects it enjoys than any organized publicity blitz can ever achieve. Images are built in decades even in centuries, not just in a day. Career diplomats are core to this. It is good the Nigeria nation has produced career diplomats. It also has names of former leaders such as Gen. Abdusallam Abubakar to point to. He was in Liberia. There is Ibrahim Gambari. He was in Burma and now in Darfur. And there are people such as former President Olusegun Obasanjo. Many across continents remember him. Leaders will listen to him if the nation draws him out to persuade them to give peace a chance in a place such as Cote D'ivoire where a defeated president has refused to pack and go. There is Gen. Ibrahim Babangida, a man whose potentials as a face of the nation on the international scene has been underutilized – his military past not withstanding. The likes of Prof Bolaji Akinyemi, Prof. Adebayo, Emeka Anyaoku and many other brilliant diplomats could be engaged to do things for the nation on the international stage. This is a pool of resources, of strength that the nation could benefit from, like America did from the likes of Richard Holbrooke - if only present policy makers knew it. Ajibade, a Consultant, lives in Abuja, email: [email protected]
Disclaimer:

"The views/contents expressed in this article are the sole responsibility of

thewillnigeria.com

and do not necessarily reflect those of The Nigerian Voice. The Nigerian Voice will not be responsible or liable for any inaccurate or incorrect statements contained in this article."
Articles by thewillnigeria.com