BOUQUI INTRODUCES TRIPLE J PLUS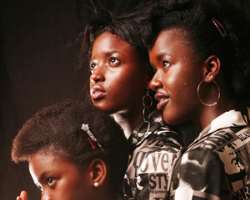 Triple J Plus
Two years after losing one of his daughters to kidnappers for eight days, Rev Abel Damina has released all three of his children to pursuing a career in music. The girls- Jemima, Jesimel and Jewiel are 16, 15 and 8 respectively and are known as Triple J Plus..
At an exclusive media briefing and buffet held last week in Lagos, an excited gospel rapper Bouqui introduced the group. 'The girls are so talented! There's nothing as fulfilling as finding and nurturing new talents and watching them rise to fame', she said.
The sisters say they aren't compelled to play gospel music because of their background. Rather 'we are here to ignite a desire to embrace wholesome lyrics in place of the jabber that constitutes modern-day pop music', Jemima explains.
Jesimel also called JP writes the songs for the group and she says she tries to re-create the Jonas brothers' pattern. A regular feature on their father's church stage and several local competitions, TripleJPlus is produced by Daniel Jones in the US.  Their first set of singles will be introduced to the public soon together with a video titled 'XYZ'.