OLU MAINTAIN SWINDLES CLIENT N.2M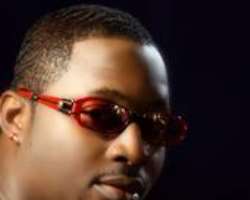 While the rumour of his involvement in the bank document papers caught with his close ally, Kracy Bondo is still hot in town, Olumide Adegbulu a.k.a. Mr. Olu Maintain is said to have swindled a client who brought a business for him.
According to the report, Bishop, as the client is been called contacted Olu for a show which involved a top shot in the society. Yahoozee crooner, Olu we learnt informed this Bishop, who is said to be running things with the Obaino's record boss in Lagos, to pay a sum of N1m for the show. After series of bargaining from the tow parties, we understood that the man agreed to inform the money bags who want Olu to perform for his event and persuade him to pay N1.2m, the inflated N200 thousand would go into Bishop's account.
Before Bishop left Olu, both of them were said to have agreed on that term only for Olu to have cunningly retraced.
When the celebrant called up Olu for a meeting, we authoritatively gathered that Olu told the moneybags that he would perform only if they pay him N1.5m.
In a confused state, the man, we gathered told Olu that his agent told him the package is N1.2m how come it has now increased to N1.5m, Olu, was quoted to have said that he had an engagement that day and if only he could increase the fee, he would forfeit the other show. The celebrant agreed to pay and he was said to have paid the sum of N1.5m into Olu's account.
The event came and went, the agent who contacted Olu, Bishop, according to information, left the venue before Olu's arrival so he couldn't have been able to request for his money right there.
A day or two after the party, report has it that anytime the man called Olu's number, he's always on voice mail, this act, we learnt, infuriated him and he allegedly stormed Olu's former abode in Ogundana but he was informed that Olu jetted out to London a day before his arrival.
Like a man whose first son has run mad, Bishop, information has it, went to report the case at the Anti-Crime squad in Panti, area of Yaba, Lagos. After about a week a some days, Bishop, who had already planted informants around Olu's domain, got the wind of Olu's arrival into the country and he never hesitated to inform his plain-cloth police men from Panti to swing into action. The anti squad, reliable source revealed called Olu, after they have negotiated a price on phone, to come over to Yaba and collect money for a show which they would be doing in two days' time.
Sources said Olu rushed down to the proposed venue but only to meet a different story entirely. "He was handcuffed and taken to Panti where he wrote a statement. In his statement, he said he agreed to pay Bisho the sum of N200 thousand but he traveled since then and just came back. So, they brought him back to his house in his America Limousine otherwise known as Chrysler 300-M Class to pick his cheque books and he was said to have reluctantly wrote the sum of N200 thousand in favour of Bishop." A superior police officer at Panti anonymously informed this reporter.
In a fact finding mission, this reporter contacted Olu last Wednesday for his own side of the story through his sister, Ope, and he said he had nothing to say about it and we can go ahead and publish whatever story we got.