2011 PRESIDENCY: FORGET CPC, PDP, ACN — MASARI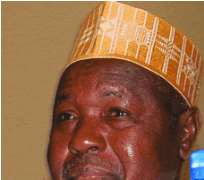 Masari
Former Speaker of the House of Represetatives, Alhaji Aminu Bello Masari, has warned against imminent danger if Nigerians fail to rescue the nation in 2011. He urged the electorates to the best vote despite presidential candidate political affiliations.
Masari, who is also aspiring to be governor of Katsina State on the platform of Congress for Progressive Change (CPC), said none of those parading themselves as presidential aspirants, except Muhammadu Buhari, has the commitment and integrity to lead the country out of its protracted bad times:
'If you look at the quantum of money this country made from 1999 to date, it is more than the quantum of money this country made between independence and 1999. But where is the money?
'We have failed infrastructure. We cannot provide energy, water, good roads and security. What this country needs is rescue.' Excerpts:
Why I want to be Governor of Katsina State 
We were all old enough in 2006 to know what happened and subsequent events. The way 2007 elections were conducted also proved that the government then had no intention of conducting an election that would meet the minimum international or national standards.
The elections were roundly condemned internally and externally to the extent that even the beneficiaries of that elections admitted that there were so many flaws. This led to the formation of Uwais Committee which has since submitted its report. We are back in the field once more, believing that what we thought of doing in 2006 is still very relevant to day. We are talking about improving the quality of lives of our people.
We are thinking about good and productive management of resources. We are thinking about how we can get our state out of the second to its last position. You know, the index as published by CBN when Soludo was there. Katsina State in terms of education and poverty was only ahead of Jigawa.
At one time, Katsina was feeding most of the then North Central governments with civil servants, then suddenly, our standard of education dropped. Again, if you look at youth employment, poverty and you look at the area of agriculture, the economy of Katsina is 100 per cent agrarian. But what has been the input and what has been the output in terms of agricultural production from Katsina?
Today, Katsina State is totally dependent to the extent that if there is no import of food into the state, the state cannot feed itself. Any society that cannot feed itself, has not conquered hunger, is yet to start on the march or road to development. The first area of attack if we come to power is to reform the local government system and provide responsible leadership. The decay in the health and education sectors is increasing by the day. It is either they are not putting in enough resources in terms of money, manpower, but not due to shortage of funds. We will provide responsible and responsive leadership. The state is endowed, what we lack is leadership, it is endowed but we (governments) are focusing on the Federation Account.
Scientifically, the world is moving so fast. Within a very short time, the oil as we know it, will lose more than 50 per cent of its value in terms of money and it will affect the revenue accruing to us. We will not run an administration that will deliberately pauperise people.
Crisis in the PDP
What is happening in the PDP has vindicated my stand and that of the people who took a stand that PDP must be reformed. What is going on is a vindication of what we stood for and the resons we left PDP. More implosion is coming, wait and see.
Survival of democracy in Nigeria
Our presidential candidate (Muhammadu Buhari) is saying rescue the nation first. Nigeria needs to be rescued from those people who are busy trying to destroy it. What we need now is ingredient of security. The first is good leadership. The starting point is that you have to have a credible leader. A good leader and trustworthy leader that can really stand firm that he cannot compromise on truth so that he can restore faith and confidence in leadership.
The reality of the situation is if you want to rescue this nation, vote Muhammadu Buhari. Whether you are in ACN, CPC, PDP or wherever. We are talking about rescuing the nation. Among the people that are parading themselves in this country, this time around, nobody is near to him in terms of leadership quality, in terms of sufficient history of performance and integrity to lead this country.
Lawmakers' jumbo package
It is simple, return power to the people, give people the opportunity to change leadership. Why we, as leaders, are misbehaving is because the right to change us has been taking away from you. When we came up with the (PDP) reform, it was to return power back to you, but we were not sufficiently supported.
There is impunity all over because there is no punishment. Those leaders who are taking money that is not commensurate with their work, if they know that at the end of the day, if they go back to the people they will reject them, they will be sensible when they are taking money. They are believing that at the end of the day it is the governor who decides who comes back to power.
The position of the National Assembly has become some small change in the pockets of governors which they use to patronise their boys and to settle those who are threatening them. If you are strong enough to threaten the governor, he would compromise, there would be a meeting and he would give you senatorial seat, as if it is his own. For God's sake, the (various) positions have been corrupted.
That is why when they ask me of godfather, I say we do not have godfather now because we have institutional godfather, the governors and government houses. The reality of the situation is if we want to correct this, let us return power to the people.
If we put Buhari there, this mess will not continue. Anything which is not right, he will not accept.