Arjen Robben Ready To Return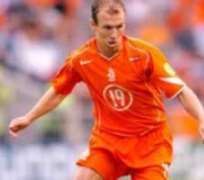 BAYERN Munich's boss, Louis van Gaal, expects Arjen Robben back in action next month, as the club tries to finalise Luiz Gustavo's capture.
The Dutch international has not played for the Bundesliga giant since returning from the World Cup in South Africa with a torn hamstring.
Van Gaal has confirmed that the Chelsea and Real Madrid former ace was back in full training and pain free, though he would need to be patient for a little longer.
'He's very good in training and he feels absolutely no pain,' Van Gaal said. 'He's very impatient to play, it's normal after six months out, but he has to wait until January 15.'
Van Gaal ruled out the 26-year old playing during yesterday's German Cup tie against Stuttgart. The Dutch coach joked: 'If I do that I think that Dr. Muller-Wohlfahrt would have a heart attack.'
Meanwhile, Bayern's supremo, Karl-Heinz Rummenigge, insists that no decision has been made over the possible signing of Hoffenheim's Brazilian midfielder, Gustavo.
Hoffenheim's co-owner, Dietmar Hopp, said he thought it was 'pretty clear' Gustavo would join Bayern next summer, and that Rummenigge's feelings are premature.
'Mr. (Dietmar) Hopp's comments surprised me,' he told Munchner Merkur. 'I can confirm that discussions have taken place but a decision has not yet been taken.'
Rummenigge has also cast further doubt on the future of Bayern's captain, Mark van Bommel, who is out of contract at end of the season, by stating the club does not automatically renew deals.
'I've spoken to Mark again recently and I've heard him say that he wants to stay at least until the end of the season,' he concluded.
'He's a great captain, one of the best I've worked with at Bayern, but we don't automatically extend contracts.'