CHIME PRESENTS N66.4BN BUDGET TO HOUSE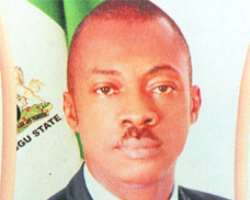 Governor Sullivan Chime yesterday presented a budget proposal of N66.44 billion to the Enugu State House of Assembly for the 2011 fiscal year for consideration. Chime told the House that the 2011 budget proposal christened 'Budget of Continuity' represented a 2.8 per cent decrease to the 2010 budget of N68.36 billion.
He explained that the decrease was necessitated by the realities of the times with respect to revenue inflow from revenue sources.
The governor pointed out that out of the proposed budget, N40.11 billion representing 60.4 per cent would be set aside for recurrent expenditure while N26.32 billion would be for capital expenditure.
He said the government expected to get as recurrent revenue N42.13 billion in 2011, adding that the government would aspire to realise the amount through aggressive internally-generated revenue which is estimated at N7.31 billion, representing 17.4 per cent of the sum just as they hoped to garner N28.79 billion from their share of federal revenue, representing 68.3 per cent and value added tax estimated at N6.025 billion, representing 14.3 per cent.
On the estimated N40.11 billion recurrent expenditure, he disclosed that N32.51 billion, which represents 81 per cent would be for personnel costs, including consolidated revenue fund charges while N4.60 billion representing 11.5 per cent would be for overhead cost just as N3 billion, which is 7.5 per cent was set aside for subvention to parastatals and tertiary institutions.
He also told the House that N26.33 billion, which is 39.6 per cent of the budget size would be appropriated for capital expenditure in the coming year.
The governor later gave some explanations on sector basis to bring out their guiding principle in the allocation.
The 2011 Budget of Continuity, he said, was premised on the need to aggressively and progressively continue the rebuilding of the state with the same level of passion and determination. 'This proposal underscores government's commitment to continue and complete ongoing projects. The budget clearly highlights the seriousness of our intent to consolidate on the progress recorded so far in our quest to take our state to the next level,' Chime said.