2011: I PITY JEGA – SYLVA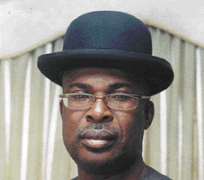 Sylva
Bayelsa State Governor, Timipre Sylva, has expressed pity for the Chairman of the Independent National Electoral Commission (INEC), Professor Attahiru Jega, as he prepares to conduct the 2011 elections. Sylva, who stated that the 2007 elections were the worst so far in the history of Nigeria, noted that the conduct of the 2011 elections would define Nigeria as a country.
Speaking at the stakeholders meeting/ flag off of the voters' education, organised by the commission, Sylva, represented by the Secretary to the State Government, Mr. Gideon Ekuwei, said his pity for Jega was borne out of the fact that he (Jega) had found himself in a precarious situation in his determination to conduct a successful election.
Noting that past elections in Nigeria were characterised by fraud and malpractice, Sylva implored INEC to rise to the occasion and conduct a credible election in 2011.
According to him, this can only begin with a credible voters' register, which would ensure that the commission did not 'register non eligible persons, including fishes and shrimps.' The Resident Electoral Commissioner (REC), Mr. Edwin Nwatarali, in his address, explained that the compilation of a credible voters' register was a very important step towards realisation of the 'one man, one vote' strategy for credible elections.
He declared that INEC was determined to conduct free and fair elections and assured all candidates that there would be a level- playing field in the 2011 elections.
Hear him: 'INEC, as presently constituted has set for itself the onerous task of conducting a free, fair and credible elections in April 2011. This can only be achieved if all those involved in the electoral process buy into this vision. Please, be rest assured that INEC will provide a level-playing field for all parties in all activities leading up to the 2011 elections'
Nwatarali said Bayelsa natives had an important role to play in the current electoral process because President Goodluck Jonathan. an indigene of the state, had assured Nigerians and the world that there would be credible elections in 2011.
'The good people of Bayelsa State have a serious role to play in this democratic process. This is because the president of the country is an indigene of Bayelsa State and has promised the entire country and even the international community that his administration will conduct free, fair and credible elections in 2011. It is, therefore, incumbent on all stakeholders here present to conduct themselves appropriately to achieve this noble course of the President,' he said
While assuring the people of adequate security, Nwatarali maintained that a credible voters' register could only be achieved if the voting public in all parts of Bayelsa was educated and enlightened to participate fully in the exercise.