NATIONAL ASSEMBLY SHELVES STATE CREATION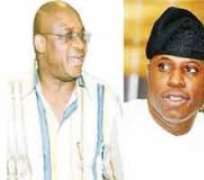 SPEAKER, House of Representatives, Dimeji Bankole, yesterday stated that all requests for state creation before the National Assembly would be warehoused by the latter for the next dispensation.
Bankole spoke yesterday against the backdrop of a visit to the House by the Benin-Ibibio-Ilaje and Itsekiri ethnic groups in the Niger Delta, who came to oppose the demand by the Ijaw for the creation of Toru-Ebe State in the region.
The Speaker, who was represented by Leader of the House, Tunde Akogun, said: 'The next Assembly will dig into it when it starts the issue of constitution amendment next year.
'This Assembly terminates in June 2011 and with the current INEC programme, which the parties are hooking onto, that will lead us to the general elections of 2011. I am not too sure but in fact I can definitely say that this Assembly will not be able to attend to issues that bother on states creation.
'The next National Assembly can now look at issues of states creation, local council creation and all that because all these bother on matters that have to do with amendment of the constitution.'
While calling for peaceful co-existence among the various ethnic groups in the Niger Delta, the Speaker assured that the National Assembly would ensure that none of them was marginalised.
Leader of the delegation, Chief D. O. Idabie, who submitted the group's petition to the House, opposed the Toru-Ebe State creation, describing the move as an expansionist agenda.
Idabie said: 'We concede to the Ijaw their right to demand for states and local councils, but we are unable to accept a situation whereby the Ijaw will premise their existence in the Niger Delta on the denial of the existence of other ethnic groups in the area.'
Idabie also called on the Ijaws of the Niger Delta to halt what he described as 'the dangerous Hitlerite approach to self-determination' by grabbing other people's territory, which he said could cause 'humanitarian catastrophe.'