THE JONATHAN PRESIDENCY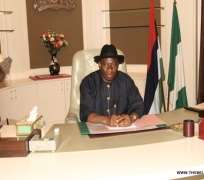 A review of the Goodluck Jonathan Presidency in Nigeria should provide significant insight into both his story and the larger Nigerian narrative. We consider this to be a necessary exercise as the country prepares for the next general elections and the Jonathan Presidency faces the certain fate of becoming lame-duck earlier than anticipated. The general impression about President Jonathan among Nigerians is that he is as his name suggests, a product of sheer luck. They say this because here is a President whose story as a politician began in 1998, and who within the space of ten years appears to have made the fastest stride from zero to "stardom" in Nigerian political history. Jonathan himself has had cause to declare that he is from a relatively unknown village called Otuoke in Bayelsa state; he claims he did not have shoes to wear to school, one of those children who ate rice only at Xmas. When his father died in February 2008, it was probably the first time that Otuoke would play host to the kind of quality crowd that showed up in the community. The beauty of the Jonathan story is to be found in its inspirational value, namely that the Nigerian dream could still take on the shape of phenomenal and transformational social mobility in spite of all the inequities in the land. With Jonathan's emergence as the occupier of the highest office in the land, many Nigerians who had ordinarily given up on the country and the future felt imbued with renewed energy and hope. If Jonathan could do it, they too could. And it was not only the ordinary Nigerian that felt this way, the people of the South South who had always complained of being marginalized by the majority groups felt encouraged that one of their own, of Niger Delta extraction had come to power. Given the religious nature of the Nigerian people, a few commentators also added that Jonathan's emergence as President was of divine origin and design. The cynics among us argued differently noting that since Jonathan was Vice President anyway, he was bound to be President. But no one could deny that there was something most extra-ordinary about Jonathan's political career in a country where it helps to have a Godfather, some money, a family name, or substantial talent for criminal conduct. When his profile was published in 2007, ahead of the Presidential elections in which he stood as running mate to late President Umaru Musa Yar'Adua, it contained such minor details as his being the Secretary of a Food Committee in his secondary school days and Chairman of a Committee of House Prefects. Such minutiae are included in a resume when there is very little to report! He also had worked as a Customs preventive officer (whatever that means) after his secondary school education! In 1977, he gained admission to study zoology at the University of Port Harcourt, Nigeria, graduating in 1981. He took part in the National Youth Service Corps (NYSC), serving as a school teacher at Community Secondary School, Iresi, Osun state. He later worked in the Rivers state Civil Service as a Science Inspector in the Ministry of Education, and subsequently as a lecturer in the Department of Biological sciences of the state College of Education. He got a Masters degree in Hydrobiology and Fisheries in 1982, and a Ph.D in the same discipline in 1995. By March 1993, Jonathan was appointed an Assistant Director (ecology) at the then Oil Mineral Producing Areas Development Commission (OMPADEC) now known as the Niger Delta Development Commission (NDDC). He served in this capacity for five years, and joined politics in 1998, when he was chosen as running mate to Chief Diepreye Alamiyeseigha in the 1999 Gubernatorial elections in Bayelsa under the platform of the Peoples Democratic Party (PDP). This was Jonathan's first major appearance on the public stage. Nothing in his background, either in terms of training or exposure had prepared him for that moment. He was by Nigerian standards, an ordinary man, the regular guy who had been chosen as running mate because he would behave well and respect the Boss. Governor DSP Alamiyeseigha was indeed the Boss. Jonathan, whose strong assets include his loyalty and humility, reportedly still calls Alams "my oga" even if that oga's tenure as Governor ended unceremoniously and in disgrace, and Jonathan is today Nigeria's most powerful man. Of Jonathan, Alamiyesiegha wrote in a book titled Goodluck to Bayelsa (Treasure Books, 2009) edited by Neghi Ilagha as follows: "Sometimes, I wonder what life inside Creek Haven (Bayelsa Government House) would have been if Dr Jonathan were not by my side. Stories abound of repeated conflicts and crises of confidence erupting between some chief executives and their deputies in this nation. But I am glad to report that I never lost sleep over Goodluck Jonathan." Both men sought re-election in 2003 and won. In 2005, Jonathan's boss ran into trouble with the Economic and Financial Crimes Commission (EFCC), another version of that story is that he stepped on President Olusegun Obasanjo's toes; however, he was removed from office and he ended up in jail. Jonathan, in accordance with the law, replaced Alams as Governor of Bayelsa state on December 12, 2005. After completing the remainder of the Alamiyeseigha tenure, Jonathan's ambition was to seek election on his own as Governor. But he got handpicked as running mate to late President Yar'Adua in the 2007 Presidential elections. His emergence in that position, as announced on December 17, 2006, was rather surprising. There were far more established and influential political figures in the South South and the Niger Delta. Some of his "ogas", Alamiyesiegha's peers from the Governorship class of 1999 had shown interest in the Presidential race and would have been glad to be chosen as Vice presidential candidate. But they were ignored by President Obasanjo who had taken it upon himself to choose his own successors. Jonathan, in comparison seemed so unenthusiastic about being Vice President; newspapers kept asking him if he really wanted the position. He reportedly confided in close associates that he preferred to stay on as Governor of Bayelsa state. On another occasion, he said he "often appeared like that at first, as if am not committed to something and once I set my mind to the thing, I always excel." In Bayelsa indeed, Jonathan had appeared as if he was not interested in being Governor. He seemed happy to have been in his oga's shadows. Commissioners and special assistants were said to have been more powerful than the Deputy Governor.
By 2007 when he showed up as running mate to Umaru Musa Yar'Adua, he seemed to have learnt a few lessons about power. As Bayelsa Governor for two years, he had one of the most aggressive campaign strategies in the country. He cleverly promoted his administration while passing off the publicity as other people's efforts. He had promised the people of Bayelsa in December 2005, "I will rather fail myself as Goodluck Jonathan than disappoint Bayelsans." Ten months later, his administration had not yet been able to address the problem of militancy in the state; on one occasion, the Governor reportedly went into hiding when militants attacked the Bayelsa state Government House. But the Jonathan administration managed to build schools, more hospitals, provided more drugs for the hospitals, bought buses to aid public transportation, started work on a five-star hotel in the state capital to promote tourism, launched a 50-unit Housing scheme, built roads, paid civil servants salary arrears, gave out N60 million to 600 youths in the state under an empowerment programme, managed to control all the hawks who tried to capitalize on Alams' humiliation to gain political capital of their own, and so on. In the main, Jonathan's public image was that of a quiet and humble public administrator, the only chink in that armour being allegations that his wife was too over-bearing, and a reported case with the EFCC involving her. During the 2007 Presidential campaigns, Jonathan was again the perfect running mate; very happy to stay in the shadows. The first person from the South South to inch so close to the most powerful office in the land, Jonathan's selection by the PDP was seen as an attempt by the party leadership to pacify the people of the Niger Delta who had been involved in a running battle with the authorities over the marginalization of that part of the country and the inequities attendant upon the management of Nigeria's extractive resources. Militants in the Niger Delta had made oil exploration activities almost impossible with their organized assault on oil exploration infrastructure and personnel. Jonathan's emergence on the big stage may have served the purpose of encouraging the people of the Niger Delta but the excitement was short-lived. Indeed in April 2007, his country home was bombed by unknown persons. The PDP won the 2007 Presidential election, it was a grossly flawed election marred by malpractices and irregularities, raising questions about the urgent need for electoral reform. On May 29, 2007, Jonathan was sworn in along with President Umaru Musa Yar'Adua as Vice President and President respectively. The man from Otuoke, who only nine years earlier was a struggling public administrator had become Nigeria's no 2. For him, it was bound to be a learning opportunity, as he received his first baptism of fire when the media insisted that he should follow the example of his new boss, Umaru Musa Yar'Adua by declaring his assets publicly. The President had declared his assets publicly in June 2007. In August, Vice President Goodluck Jonathan succumbed to public pressure and declared his assets, totalling N295, 304, 420, some N56 million more than what a Federal legislator now earns per annum for doing so little. The list included properties in Abuja and Bayelsa (N67 million), undeveloped plots of land (N60.538 m); household items (N26m), BMW car (gift) (N15 m); income yielding investments (N62.072m); cash in banks (N58.984 m); foreign accounts (nil) wife's assets (included). Jonathan's assets declaration pacified the media, which at the time had raised serious questions about the stupendous wealth of public officials, and the need for closer monitoring of public funds and assets. Greater challenges however awaited Goodluck Jonathan in his new position as Nigeria's Vice President. To be continued
Disclaimer:

"The views/contents expressed in this article are the sole responsibility of

thewillnigeria.com

and do not necessarily reflect those of The Nigerian Voice. The Nigerian Voice will not be responsible or liable for any inaccurate or incorrect statements contained in this article."
Articles by thewillnigeria.com