WHO WINS AFRICAN CAF FOOTBALLER OF THE YEAR?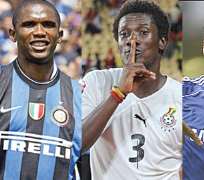 The crowning moment for Africa's finest football year, 2010 culminates with the CAF/GLO awards in Cairo today as  the African and international football fraternity  gather in the Egyptian capital to honour those who have toiled to make the African football the better product that it has become.
The Awards now in their 40th year will see eight main categories contested for.
Top on the categories is Footballer of the Year, African_ based Footballer of the Year, Most Promising Talent of the Year, Women's Footballer of the Year, Club of the Year, National Team of the Year, Women's National Team of the Year and Coach of the Year.
Top contenders for the GLO/CAF Player of the Year award are three-time winner, Samuel Eto'o Fils, Didier Drogba and Ghana's Asamoah Gyan who only last week won the BBC African footballer for 2010.
TP Mazembe's excellent run in the FIFA World Club Cup in Abu Dhabi put them in a strong position to retain the Club of the Year award.
Mazembe made history by becoming the first club outside of Europe and COMABOL to play in the final of the annual FIFA Club World Cup. Although they lost in the final to Inter Milan, the African champions achieved a historic feat for African football.
Also enhanced are the victory chances for two of their members in player Alain Dioko (African based Footballer of the Year nominee) and coach, Lamine N'Diaye(Coach of the Year Nominee) in their respective categories.
It's an all Nigeria affair in the Women's Footballer of the Year with Stella Mbachu, Perpetua Nkwocha and Ebere Orji vying for the bragging rights to the top female footballer title.
Team mates Nkwocha and Mbachu won top goal scorer and most valuable player of the tournament awards respectively at last month's  7th Africa Women Championship in South Africa.
That  all-conquering Nigeria Women's team which won in South Africa is up against their fellow country women's U20 side that reached but lost the final  against hosts Germany, becoming the first African women's team to claim a medal at FIFA tournament.
There are also  awards from CAF President, called Presidential Awards,  to be given on the night, to those who have contributed immensely to the development of football in their country.