SPORTS MINISTER, BIO, DECLARES GOVERNORSHIP AMBITION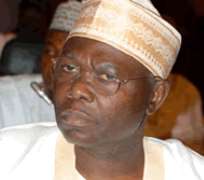 Bio
The serene city of Ilorin, the Kwara State capital, will be agog today, as the Minister of Sports and Chairman of the National Sports Commission (NSC), Hon. Ibrahim Isa Bio declares his intention to vie for the state's highest office under the platform of the Peoples Democratic Party (PDP).
Hon. Bio, a former Speaker of the Kwara State House of Assembly between 2003-08, is expected to declare his ambition at the Kwara Hotels, Ilorin, after a visit to the party's secretariat where he would meet the State Exco of PDP and formally brief the members about his intention and why he deserves to be the party's flag bearer.
Thereafter, Bio will pay homage to the Emir of Ilorin, Alhaji Ibrahim Gambari for his royal blessing.
A statement signed by the Hon. minister's Special Assistant on Media, Olukayode Thomas, revealed that Bio's campaign team worked round the clock over the weekend to ensure the success of today's ceremony.
Veteran politician, Alhaji Oba Ajara, who is the co-coordinator, Bio 2011 Campaign Organisation, told journalists at the inaugural meeting of the organisation that Bio was the best man to consolidate on the gains the state had made under the current Governor, Dr Bukola Saraki (CON), the Turaki of Ilorin.
''I have known Bio for about two decades, since when he started his political career as a councilor. He is experienced, trust-worthy, transparent, hard working, and organised. The meaning of BIO for us, is 'Best In Organisation,''' said Ajara, a stalwart of PDP in the state from Ilorin West.
Ajara agreed that it would not be an easy road to the Government House for Bio, but he would win by God's grace.
''It is a very serious task, we have to work day and night to ensured that we get the required number of delegates. It is a great work, but since we have a candidate that is humble, God fearing and a great achiever, who has served the state in various capacities, no sacrifice is too much to ensure that he gets the PDP ticket.
'We must elect Bio, a candidate that has all it takes to consolidate on the achievements of the incumbent governor,'' Ajara concluded.