Burial Arrangements Stalled As Barrister's Corpse Fails to Arrive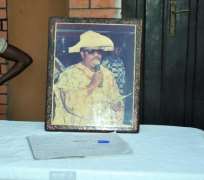 Following the passage of the Fuji icon, Alhaji Sikiru Ayinde Barrister in the early hours of Thursday, December 16, 2010 in a London hospital; his corpse which was initially expected in the country on Saturday, December 18, and later penciled for today (December 20), is as we write, yet to arrive – with all hopes still high in anticipation of the remains of the deceased.
A family source who spoke to us in anonymity noted that different things (which he refused to enumerate) have been stalling the corpse from arriving the country 'like today all flights in Europe were canceled because of bad weather – we're hoping the air will be certified safe to fly soon.
Meanwhile, the Lamina Lawal, Isolo, Lagos home of the Fuji Garbage hit maker has turned into a Mecca of sorts since Barrister was announced dead. Our reporter who visited the house scooped that the Lagos State government has made provisions for caterers to serve food to all the mourners present at the house daily.
No official word yet from the family, but sources say Barrister will be buried in his Lagos home, even though key family members are insisting that he be buried in his hometown in Ibadan.
'I just left there now. There are no signs that they're expecting his corpse or that they'll be burying him there yet. They've not mapped a location for his grave in the compound. I know they're still divided over whether he should be buried here in Lagos or in Ibadan. But all that will be resolved in the coming days' a top family source.

Cross section of mourners at Fuji Chambers
>

One of the deceased's wives…