BREAKING NEWS:Missing Angel SHARON OMOLAYO Found!!!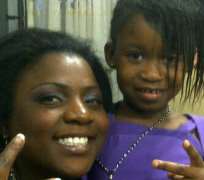 She was missing for 7days!!!
Her parents,family and friends did not sleep at all.
Her mum was on her knees crying to God today Monday december 20th,exactly one week after she went missing,when they received an Anonymous call to come and pick up sharon from outside of Lagos.
This is the good news people!!
Sharon has been found thank God,her mum is on the radio now,she was kidnapped by the Family friends "houseboy" who planned to phone her parents a few days later and ask for a ransom but his partners backed out and he panicked so he phoned her dad today to come pick them up at Ifo where he confessed everything.
Please be careful with our young ones and trust no one !!!
Thank God.....i had almost postphoned Christmas this year!
Welcome home Sharon....Welcome!!
Click the link below to go to ...