VETERAN MUSICIAN, PRINCE ADEKUNLE SET TO TAKE RUGGEDMAN TO COURT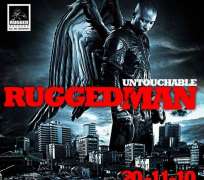 If the gist at Buzz's disposal is anything to go by then, veteran juju maestro, Prince Adekunle is set to take rapper, Ruggedman to court.
You might wonder why this veteran artiste wants to join issues with this hip hop artiste in court. The reason for this is not for fetched as we learnt that; Ruggedman used Prince Adekunle song to get back to 9ice without getting permission from Prince who is the owner of the song.
It will be recalled that 9ice has been joining issues with Ruggedman over Ruggedman's closeness to his separated wife. This generated controversy in the industry to the extent that 9ice called Ruggedman all sorts of names in his newest album.
PRINCE ADEKUNLE'S ORIGINAL VERSION

General Prince Adekunle
General Prince Adekunle and his Supersonic Sounds,
Awodi Nfo Ferere, Ibukun Orisun Iye Records 1976
>

This is an album by one of the
greatest juju masters. Sir Shina Peters and Segun Adewale made
their name with the band of Prince Adekunle but reached much
bigger public than their teacher did. Although less known world-
wide, Prince Adekunle's music belongs to Nigeria's very best.
Most pages state this LP is from 1975 but this label clearly says '76.
tracks;
1 Awodi nfo ferere
- Banuso ma beniaso
- Meta meta lore
- Iwaju lao ma lo
- Jossy olatunji shofunwa
- E ma fiwon sepe
2 Omo niyi omo nide
- A ki nromo ra loja
- Ma se'ka iwo ore