OGUN: USING ADIRE TO PROMOTE CULTURE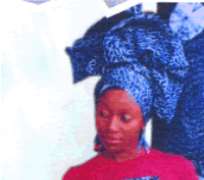 Although Ogun State contingent did not win the Presidential Gong during the 24th edition of NAFEST this year, its emergence as the most creatively innovative State was quite significant.
The State which had won overall best in the 1995 and 2005 edition of the festival equally won the hearts of participants this year with its creative use of the Adire fabric in crafts Expo and exhibition.
This is aside its unique performances children solo music, with this success, costumes and creative design. Ogun State made a valid statement while illustrating the theme of the festival, cultural industries and economic empowerment. It among others, proffers a model for capacity building through the creative packaging of the local fabric.
The mission using Adire as the carrier of message at the festival was rooted by Mrs Yemi Olanrewaju, Director of the Ogun State Council for Arts and culture. Olanrewaju who is a Theatre Arts graduate had over the years influenced her interpretation of the themes of the National Festival for Arts and Culture (NAFEST).
According to her, it is the ultimate goal of Ogun State to exploit products of its cultural industry. This vision informed the choice of Adire and its packaging into diverse utilitarian forms.
' For us in Ogun State, we do just see Adire as an exclusive fabric for Yoruba wears, we see it as serving every tribe and purpose. This is why we conceived of using the dyed indigo to produce accessories such as bags, bangles, tables, chairs, caps and necklaces among others.
In fact, the council is planning to establish the Gateway Adire Palace where local and foreign tourists can pick their favourite costumes and accessories' explained Olanrewaju.
On how her council's participation at NAFEST 2010 in Uyo, Akwa Ibom State, Olanrewaju said she had raised a team of culture workers which planned ahead of other state for the festival.
Her words ' We had long realized that this year's theme did not require large participants but a lot of work in the area of using our imagination. We had thought ahead of other competitors on the need to seek competitive advantage through the use of Adire fabric. We choose this fabric as our main cultural product and repackaged it into multiple use.
By this, we tried to explore the commercial value of the fabric and make it appealing to all classes of people, irrespective of status and age.