THIRD EYE MEDIA UNVEILS DOCUMENTARY ON BAYELSA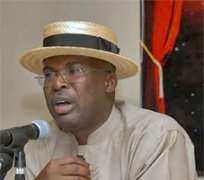 Gov. Sylva
Pioneer Nollywood filmmaker, Tarila Thompson recently dazzled Bayelsans with his recent and very germane documentary on the oil rich State, which premiered elaborately in Yenogoa, the State's capital. Painstakingly shot by Thompson's Third Eye Media Watch in collaboration with Bayelsa State Government, it captured vividly the three years of relentless stewardship of Governor Timipre Sylva and his workaholic team. Dubbed:
The Sylva-Nomics Evolution, the great work, whose premiere was witnessed by the who-is-who in Bayelsa, is currently showing on network stations across the nation with so much applause and plaudits for bowler-hat-loving Sylva and his team.
The documentary featured the good works Sylva, the third executive Governor of Bayelsa is consistently doing for the State, also known as the Glory of All Lands.
His giant strides in the solid provisions of social amenities, such as: good roads, health, pipe borne water, education, security, agriculture, sports, entertainment and other infrastructural facilities that will help make life meaningful for Bayelsans as well as attract investors, were well documented for posterity. Speaking to Bayelsans in the very colourful documentary, Sylva, openly told them that his administration will consistently deliver dividends of democracy to them as long as he remains in office, adding that the State had been destined for greatness. 'I want to leave a legacy that will outlive me and my administration, especially in the areas of delivering dividends of democracy, accountability and good governance.'
Even key government officials, traditional rulers, stakeholders and masses that spoke in the documentary, unanimously agreed that Sylva, had done exceedingly well for the State and should maintain the pace of his good works.
On why he embarked on the project, Thompson, with over a dozen hit movies to his credit as a leading filmmaker, disclosed that the documentary was borne out of his desire to contribute meaningfully to development in the State. 'As a proud son of Bayelsa, I decided to contribute my own quota by embarking on this project. I abandoned my thriving movie business and relocated to Bayelsa for over a year in order to shoot this documentary.
We must hold government accountable to the people by either exposing their good or bad sides. Having monitored events in Bayelsa since Sylva assumed office, I decided to document his great works for Bayelsans and the rest of the world to see. I was in Bayelsa during the tenure of other Governors, but with Sylva, the difference is very clear, even to the blind. Even the Economist magazine from London, came on their on and gave the Governor thumps up, for the wonderful works he's doing. Third Eye Media Watch, will continue to monitor events in Bayelsa for the good of the people, it's our collective responsibility.'
Sylva, in the documentary also promised to build a film village and international music studio, which he argued would constructively engage and expose the teeming youths to global best practices in the entertainment world.