S KOREA TO HOLD LIVE-FIRE DRILLS ON YEONPYEONG ISLAND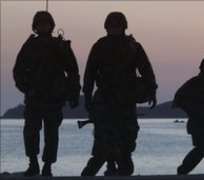 Yeonpyeong Island lies just a few miles from the North Korean coastline
South Korea says it will hold live-fire exercises on Yeonpyeong island, the first since it was shelled by North Korea last month.
The one-day exercises would be held between 18 and 21 December and would be observed by the US-led UN Command, the South Korean military said.
Guns would be aimed away from North Korea, it said.
North Korea says that its bombardment of Yeonpyeong was a response to the last live-fire exercises held there.
Four South Koreans – two marines and two civilians – died in the 23 November shelling on the island, which lies close to the disputed inter-Korean western maritime border.
The incident has inflamed tensions on the Korean Peninsula, already high in the wake of the March sinking of a South Korean warship.
South Korea and the US have since carried out large-scale military exercises in the area.
South Korea's military said all civilians on the island would be encouraged to leave the area before the drills began.
The exact date of the exercises would depend on the weather, it said. About 20 US troops would also be present to provide medical and communications support.
US visit
Meanwhile New Mexico Governor Bill Richardson has arrived in North Korea on a visit aimed at easing regional tensions.
"Our objective is to try to lessen tensions on the peninsula, push towards serious negotiations, and find ways to bring peace," he said as he boarded a Pyongyang-bound plane in the Chinese capital, Beijing.
"There's been too much (many) incidents on the Korean peninsula that are of concern and we are headed to North Korea in the hopes of bringing peace."
He has in the past acted as a go-between with North Korea – with whom the US has no formal diplomatic ties.