PDP CRISIS: ENUGU, ANAMBRA TEAM UP AGAINST NWODO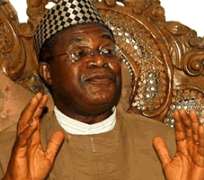 •Nwodo
The current crisis in some state chapters of the Peoples Democratic Party (PDP) over an order for fresh congresses by the national secretariat of the party may have united aggrieved factions of the party in Enugu and Anambra states against the National Chairman of the party, Dr. Okwesilieze Nwodo.
Already, a House of Representatives aspirant from Idemili Local Government Area of Anambra State, Tony Chukwuelue has dragged the Independent National Electoral Commission, (INEC) to court, seeking an injunction stopping the electoral body from having any dealing with Nwodo or the South-east Zonal Chairman of the party, Olisah Metuh, whom he claimed were the products of the same inconclusive congress.
Another PDP member from Enugu, Collins Amalu had earlier filed a similar action at the Federal High Court sitting in Enugu challenging the position of the national chairman having been granted waiver by the same state party executive he recently declared illegal.
In the fresh motion in Awka Federal High Court, Mr. Chukwuelue is asking for a declaration that the respondent (INEC), having decided that the party congresses in eight states including Anambra and Enugu were inconclusive, cannot be allowed to speak from both sides of the mouth by having any dealing or be seen to accord any form of recognition to persons who are direct products of the same inconclusive congresses.
Chukwuelue is also seeking a declaration that INEC cannot also selectively refuse to have dealings with any of the eight party executives of the states on the basis that the congresses that had thrown them up were inconclusive and then turn back to deal with or accord recognition to the products of the same congresses 'including but not limited to the zonal chairman of PDP and the national chairman.'
He is further seeking a court order restraining INEC from according or continuing to accord the aforementioned officers of the party any recognition or having any dealings with them over the affairs of the PDP being products of inconclusive congresses in some of the eight states affected. In the alternative, Chukwuelue is seeking an order that INEC accords the same recognition to all of the state executives of the party thrown up by the same congresses in the states and to stop regarding them as illegal state executive of the party.
Speaking to newsmen in Enugu over the development, a PDP stalwart and former national Auditor of the party, Ray Nnaji said his camp was interested in the Enugu case because it concerns them. Said he: 'We are all fighting for the same thing because there is no how the same executive that produced the national chairman by granting it a waiver would be declared illegal while the product of the same executive would be allowed to stand.'
'We have been arguing this and there are so many processes in court because the Vita Abba -led executive in Enugu granted Nwodo waiver which qualified him to become the national chairman in the first place, therefore if the executive is illegal then his position as chairman cannot stand because he is a product of that executive.'
Nnaji explained the pending suit at the Federal High Court in Enugu was against the national chairman, 'but you can see that the current suit has INEC as respondent because they cannot be speaking from both sides of the same mouth by saying that the executive is illegal and at the same time they are dealing with the product of the illegal executive.'