KALU WITHDRAWS FROM PRESIDENTIAL RACE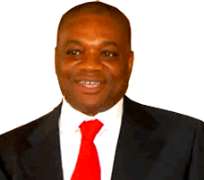 •Dr. Orji Uzor Kalu
Citing the collective decision by Igbo leaders from the South-east geo-political zone to wait for 2015 presidency, former governor of Abia State and leading presidential aspirant of Progressive Peoples Alliance (PPA), Dr. Orji Uzor Kalu, has withdrawn from the 2011 presidential race.
Kalu, who had, while declaring his intention to contest the highest office in the land, said the hardship and despair across the landscape, occasioned by poor governance was what motivated him to go into the race, explained that as a proud Igbo son, he decided to submit himself to the decision of the leaders of the zone.
Though he disagreed with the decision that the Igbo nation should wait till 2015, when there were able and qualified people from the zone, including him, that could bring the desired turn around to the nation, Kalu said 'as a committed Igbo man, having consulted widely, I therefore have to adhere to the decision made by Igbo leaders and the Igbo nation till such a time when we reach a consensus to produce a Nigerian president of Igbo extraction.'
Dr. Kalu, in a statement signed by him in Abuja yesterday said he had deferred to the prominent Igbo leaders in such groups as Ohaneze Ndigbo, Aka Ikenga, Igbo Peoples Forum (IPF), South-east Political Leaders and others, who have studied the prevailing situation and came to the conclusion that the Igbo should gear up for the presidency in 2015.
The former governor argued that the poverty and the despair that pervaded the land in the midst of abundant God-given endowments, were direct reactions to the general poor governance and that for him, 'the quest to provide leadership at the highest level can only be worth its while when we can appropriately replace the hopelessness, despair and despondency of today with hope and equal assurance that the imperfections of our past would challenge our creative instinct to re-direct the developmental pulse of the nation towards a progressive path.'
Kalu said that while offering himself to serve, he relied on his assurances of his ability in conjunction with like minds to provide leadership needed to lift the nation moreso when 'some of us have made things work at the micro level of government with limited resources, there is no reason why such successes cannot be replicated at the macro national level.'
Thanking Nigerians of all strata both at home and in the diaspora, for the belief in him and the support given to his aspiration and quest to lead the nation, Kalu said he would ready to contribute his quota to the task of developing the nation to the level all envisioned.