THE KING'S SPEECH LEADS GOLDEN GLOBE NOMINATIONS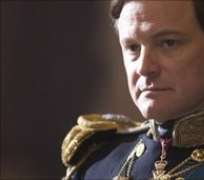 The King's Speech stars Firth as the stammering King George VI
British movie The King's Speech leads the nominations for next year's Golden Globe Awards, with seven nods in key categories, including best film drama.
Colin Firth, who plays King George VI, is up for best actor and Helena Bonham Carter has been nominated for best supporting actress.
The Fighter and The Social Network are up for six awards and Glee received the most nominations for a TV show.
The ceremony on 16 January will be hosted by comedian Ricky Gervais.
Dark thriller Black Swan – set in the ballet world – and sci-fi blockbuster Inception also picked up nods in the best film category.
Firth, who has just been presented with the best actor prize by the New York Film Critics Circle, goes up against Jesse Eisenberg, James Franco, Ryan Gosling and Mark Wahlberg for the best actor in a drama award.
The Fighter, which stars Wahlberg, earned three other acting nominations in the supporting categories for Christian Bale, Amy Adams and Melissa Leo.
The movie's director David O Russell will also compete in the best director category.
The Social Network's Andrew Garfield is up for best supporting actor and David Fincher has also landed a directing nomination.
Natalie Portman has received a nod for her role in Black Swan, along with Halle Berry, Nicole Kidman, Jennifer Lawrence and Michelle Williams.
Films up for best picture for musical or comedy include Tim Burton's 3D movie Alice in Wonderland, Burlesque, The Kids Are All Right, Red and The Tourist.
Johnny Depp has landed two nominations in the best actor in a comedy or musical category, for Alice In Wonderland and The Tourist.
Paul Giamatti, Jake Gyllenhaal and Kevin Spacey complete the list.
In the actress category, Annette Bening and Julienne Moore are both up for The Kids Are All Right.
Glee was in the category for best TV comedy or musical, where it is joined by five other shows including 30 Rock, The Big Bang Theory, The Big C, Modern Family and Nurse Jackie.
Nominations for best TV drama went to Boardwalk Empire, Dexter, The Good Wife, Mad Men, and newcomer The Walking Dead.
Gervais returns as host for a second time
Voted for by Hollywood's foreign press, the Globes were traditionally a solid indicator for Academy Award winners, which take place a month later.
However, in the last six years, the only winner of a Globe for best drama which went on to Oscar success was 2008′s Slumdog Millionaire.
Actors Katie Holmes, Blair Underwood and Josh Duhamel announced the list of nominees in Los Angeles earlier.
It has already been announced that veteran actor Robert De Niro will receive the prestigious Cecil B DeMille Award for lifetime achievement.
The 68th Annual Golden Globe Awards is held at the Beverly Hilton Hotel in Los Angeles on 16 January and will be shown in more than 160 countries.
Last year's host Ricky Gervais will return this year.