I can act nude if... Says Rita Dominic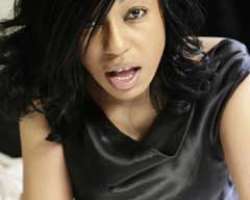 Rita Uchenna Nkem Dominic Nwaturucha popularly called Rita Dominic by her adoring fans, is an irresistible beauty to behold any day. Born in 1975, in Mbaise, Imo State, Rita is one of the most celebrated Nollywood actors .
As a talented child, she was a consummate lover of music, who entered and won severally in dance competitions and expressed herself vocally through the art of traditional music.
Rita developed a strong passion for the arts and in realization of her lifetime ambition, as she grew up, the fast rising actress opted to study Theatre Arts at the University of Port-Harcourt. It was a decision that later launched her into the mainstream acting in Nigeria.
And of course, having finally begun her promising career in television programmes such as Children's Variety and Junior Opinion, Rita is today rated as the most sought after actress in Nollywood. Her anglic face and sexy poses often command ethereal influence among notable movie directors within and outside the shores of Nigeria.
While she debuted in her first movie, A time to Kill in 1998, Rita Dominic is a rare name to behold whenever a mention of Nollywood is made anywhere around the world.
This Mbaise-born actress was a special guest at the Vanguard Headquarters, in Apapa, Thursday. Dressed to kill in her black jersey upon black shirts with matching cap, Rita was the cynosure of attraction as she strolled leisurely into the expansive premises of Vanguard.
But guess what! her mission to the organization is nothing far from coming to share the story of her life on screen as a team of Vanguard Editors engaged her in a breathtaking session. Read...
Could you tell us more about the state of Nollywood ?
O yes! Nollywood is faring well. But the problem confronting the industry today remains that of mediocrity.
Take for instance, a situation where a personal assistant on location may decide to wake-up one day and become a director without availing himself of any formal training in the art of directing. Now tell me the kind of movie that a personal assistant is going to direct.
This is one of the major problems that is militating against the growth of the industry. We need to have trained movie directors as well as trained directors of photography and that of piracy to get the industry going.
In as much as I know, I can not sit down and tell you categorically that piracy needs to be curbed in Nigeria. Piracy can rarely be curbed as far as Nollywood is concerned.
Do we hear you say that most of the Nollywood directors are not trained, how come you end up being directed by them?
You know, when one first joined Nollywood, one is very much like a kind of fish out of the deep water.
He or she at that particular time does not control his or her destiny in the industry. And so, he or she is left with no choice than to flow with the tradition. But after some years, one is sure to look back as he or she reviews his or her activities in the industry; considering how to take his or her career beyond the mediocrity level.
By that singular action, one becomes more critical of the kind of movies or directors one would want to work with. Let me speak for myself here that in the past two or three years, I have been selective of the kind of movies that I would want to star in.
First of all, if I must accept to feature in any movie today, I have made it as a condition that I must acquaint myself with the profile of the director as well as what becomes of his responsibilities, while on location.
You also mentioned professional flaws?
I mentioned piracy and the level of un-seriousness as part of the major threats to the growth of Nollywood. Every now and then, substandard movies are churned out to the detriment of the movie bluffs. Some people hold the opinion that some of our movies are not properly done. But my belief is that, if good films are produced people are bound to go for them despite the criticisms.
We are talking of good films, what do you see as a good film?
For me, it is that role that I play in a movie that tends to stretch me so much as an actress. That role that will take me away from my real self. I kept talking about the "White Water", the Amstel Malta film that I did, because that was not real me.
I have played that role before. There is nothing glamorous about it that has come to be part of me. It was very different from my real self. And that is the kind of role I look forward to playing again. A situation where, the cast discuss creatively with the director, where there is room for the collective expression of ideas.
What is your ideal Nollywood?
My ideal Nollywood is such that is bigger than Hollywood and Bollywood.
There is all kinds of ugly things making rounds in Nollywood, especially the alleged sleeping around with directors before one is assigned to a particular role, have you ever fallen a victim before?
Oh! no... I hear about such things. But we are talking of adults here. I must say that, those actresses who gives themselves away because of the fact that they want to be assigned to a role are mainly the un-talented ones.
If one is not talented, one has no choice than to get involved in a lot of sleeping
Rita Uchenna Nkem Dominic Nwaturuchaaround with the directors. But we must get it clear that, if you are not talented, you are not talented no matter how you try hard to pretend.
Has any producer ever opted to take you to bed before assigning a role to you?
No, I don't think so.
But star actor, Segun Arinze, reportedly confirmed that "sex" exists in Nollywood, so how do you refute the claim?
I guess so. But what I keep saying is that, if someone is not talented in acting, that person cannot go far in the industry.
She will continue to sleep around with the directors without minding the consequences of her action. And I tell you, anyone who claims to be an actor and who does not in any way possess the talent is likely going to crush mid-way into the profession.
What stirs you up to play a particular role in a movie?
First of all, I will subject myself to studying the script handed over to me, by my director in order to appreciate the substance of the story.
Thereafter, I now take a look at the role that I am going to play. With all the mental images in my brain, I will endeavour to create a character that will most fit into the role that I am asked to play. Sometimes, and not always, I try to indulge in looking into my standing mirror by way of preparing myself for the role.
Let's know where Rita Dominic is coming from?
Rita Dominic is Rita Dominic Nwaturuocha. She hails from Mbaise, in Imo State. She is the last daughter in a family of four. And presently an orphan. She is a Theatre Arts graduate from the University of Port-Harcourt.
I have always been on stage right from the age of five. I was a social perfect during my secondary schools days. All my life, I have never seen myself doing something outside acting. I first starred in a movie in 1998. But the movie was actually released in 1999.
What difference exists between Rita Dominic on screen, and that of Rita Dominic as a young Nigerian lady?
It's simple. This is Rita Dominic here in real life. On screen, it is not me. It is Rita Dominic acting out a role assigned to her. So, what you see on screen is not my real self.
In real life, are you tempted to live some kind of life that you are meant to play on screen?
Yes, if it is positive. Even though, we are artistes, we learn from the roles that we play on screen. We, however, try to put away the negative aspect of it.
What role would you not like to play, if you must be on screen?
First and foremost, I am an actress. I don't think, there is any role that I wouldn't want to play provided such role will help in the realization of the storyline.
Would you then subscribe to going nude, while acting?
It depends on the storyline. If it's very necessary that I must go nude in order to realize a storyline, yes I will do it. For instance, if it is a situation whereby, if I don't comply to go nude, it kills the substance of the story, and at the same time, if I do comply, it helps in telling the story, why not, I will do it to save the story either.
Why is there so much tears in our local movies?
Acting is all about make-believe actually. Well, I guess it is their own way of portraying their own character. Particularly, Africans are very traumatic people. I think, most of the movies that we produce are mainly a reflection of what happens around us.
How often do your fans tell you to your face, how beautiful you are?
The truth of the matter is that, I am not good at taking compliments. But it does not mean that I am not appreciative. I am very much appreciative.
You appear to like playing roles that are very romantic, especially when you are meant to kiss on screen, if one may ask, is that part of acting?
Laughs..., what do you want to know. All is about acting. I think, when you attach emotions on screen, you tend to forget your lines. So, it is acting. But on screen, I rarely get emotionally involved.
There are certain people you are comfortable acting with, and whenever you play a role with them, the storyline flows, Jimi Iyke for instance, do you enjoy romance while on screen?
Enjoy what, I don't have to enjoy anything. The fact that people have certain professional chemistry, even in Hollywood, it is certain that one is comfortable with each other. They call it "on screen lover."
It is just, when you got to play love-role together, the message comes down better, because you appear to be comfortable with each other and it is called professional chemistry.
As a popular actress, do men make regular passes at you?
For every lady, there is a men caller, whether acting or not. It's natural, men make passes at every woman.
Have you ever thought of settling down?
I will do that in my own time. Probably, when I am ready, but not now.
And when is that time?
Here you go again, talking about my personal life (laughs).
Back in your secondary schools days, there are some of your friends who took to different professions, while many others ended up getting married, today when those your friends see on screen how do they feel?
A lot of my friends in those days had wanted to study medicine, law and other science courses. But I opted to study Theatre Arts. And today, when those my friends come in contact with me they always feel happy that at last I was able to actualize my dream.
Aside acting, what else can you do better?
Acting.. acting... acting. I am trained as an actor. And I remain an actor.
While on screen, do you leave part of you in the role that you are meant to play?
Once in a while, there are certain characters that I don't like to play. I try to run away from playing boring roles.
In your career as an actress, which of the films you would lay claim to have tasked you most?
I wouldn't single out any particular film that I would say really tasked most. Even though there was a particular film that was really challenging to me. While I have not been able to single out a particular film is because, playing different roles for different characters is challenging enough.
The movies come with their own challenges in one way or the other. But the movies, I would say stretched me so much as an actor were, "Desperate Millionaires", "All my Life" and "White Water" and "Distance Between" which is still receiving finishing touches.
Once upon a time, you were a green horn actress, now when you find yourself acting alongside a green horn on location, are some of better?
I have had cases like that, where some of the new comers display some kind of fear, while on location. But I try to encourage them, because I was once in their shoes.
Could you describe a moment where you were so embarrassed while walking along the street by your fans?
No, the word embarrassment is out of it. The thing is that I am a very shy person. And again, because of the kind of job that I do, I intend to be more shy.
But at the end of the day, when my fans come complimenting my effort on screen, I try to appreciate them. Because, without them, I don't think I will be where I am today. But don't forget that I am a very shy actress.
Like some of your colleagues, would you opt to marry a white lover?
There you go again. I wouldn't know.
Have ever chewed bone in public?
Why not. Yes, I have.
Tell us your worth as far as Nollywood is concerned?
Laughs... ask my manager.
Would you say you are fulfilled as an actress?
Look at me from head to toes and tell me what your impression about me is. I love my job, and I am not planning to retire soon. I am not keen about fulfillment.