ICE PRINCE, NAETO C, YQ, WHIZ KID CROON AT FACE OF SELARA 2010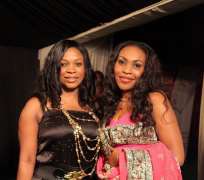 It was an unforgettable night of style, fashion and grandeur for residents of Abuja who trooped out to the Thisday Dome, CBD to witness the Face of Selara Beauty pageant 2010, a pageant aimed at discovering an intelligent, confident, creative and well spoken young lady to represent Selara Faces Beauty and Style Company as well as a charity event to raise funds for orphanages.
The event which was held penultimate Thuarsday commenced with a red carpet event was graced by the who-is-who's of the Nigerian community; dignitaries like Ambassador Osagie, Helen Prest Ajayi, Maikori, a representative from the first lady of Akwa-Ibom state, the ambassador of Tanzania amongst others.
Serenading the guests at the annual event were Naeto C, YQ, Whizkid, Ice Prince, Dj Neptune. Also Miss Oluchi Onourah, a contestant from Lagos emerged winner in the beauty contestant which had star actor, Jim Iyke as a judge. As the winner of ace of Selara 2010, Miss Oluchi Onourah is entitled to a Car, N250,000, and two billboards in Lagos and Abuja, she also went home with Selara products.
Speaking on the event, Mrs Arafa Ukonga, MD of Selara faces said "Face Of Selara has come to be a huge success that thousands and this year's event went well and we raised the notch higher this year, with the artistes, dignataries and guests that were at the event".
The last two edition of the Face of Selara pageant saw to the crowning of Miss Blessing Osim (2009) and Miss Meg Kaka (2008) as queens and had the audience entertained by top artistes like P square, 9ice, 2 Face, Banky W, Paul Play, Djinee and Omawunmi, however, it is going to be a night of entertainment like never as the 2010 edition Face of Selara is set to lift the bar of its last two editions.