Mega Party's Boast To Unseat Ruling Party Misplaced - PDP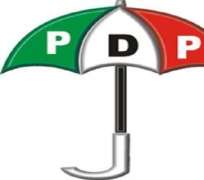 ABUJA, DEC 12, (THEWILL) - The ruling Peoples Democratic Party (PDP) today said that the declarations by leaders of some political parties trying to form an alliance with the sole objective of unseating the PDP in the forthcoming 2011 general elections are misplaced.
Professor Rufai Ahmed Alkali, PDP National Publicity Secretary in a statement made available to THEWILL in Abuja said the development is no doubt an 'act of self-delusion, a fantasy and an unrealizable pipe dream.'
"It appears that this grandstanding is apparently bolstered by recent Appeal Court rulings which awarded some PDP state governorship seats to some small opposition Parties through legal means.
"The party said the highly misplaced excitement and hysteria expressed by this cabal of small Parties and unholy alliance is neither new nor surprising to us. We wish to remind Nigerians that the earliest attempt to abandon individual identities of Parties and go into a marriage of convenience in 1999 called APP/AD alliance collapsed like a pack at inception," the statement said. The Party further said Nigerians will equally recall the multiple setbacks suffered by these unprincipled groups operating under the aegis of a so called Mega Party.
"These phantom mergers, alliances and similar conspiracies under whatever names have remained still-born and never saw the light of the day due to the insincerity of their proponents. Nigerians have come to realize that their only motivation is the naked pursuit of power without a clear direction, a defined agenda or noble cause.
"We wish to reiterate here that the PDP is not opposed to multiparty democracy. We indeed welcome all those who offer principled opposition or alternative views to drive Nigeria forward as a leading actor and member of the International Community. In fact, this has been the cardinal principle expressed by our National Chairman, Dr Okwesilieze Nwodo in his reform programme which has seen the Party repositioned to be more responsive to the democratic yearnings of Nigerians.
"The PDP wishes to assure those advocating for gang-ups that we remain firmly rooted on the side of the Nigerian people and will never be threatened by antics of people who have confessed their individual weaknesses. The facts on the ground show that the PDP remains solid and better positioned to realize the political and economic goals of our Nation.
"Nigerian have consistently shown that the destiny of their nation can only be borne by a competent, organized and truly national political Party such as the PDP and cannot be gambled away or surrendered to individuals and clandestine groups whose records in states where they have some visible showing have become a dark parch on our Nation's democratic space," he said in the statement.
Professor Alkali said PDP is currently preparing for democratic primaries where candidates will be freely chosen by members nationwide. 'This is in sharp contrast to all the other Parties whose candidates emerge at the whims and caprices of demigods and cult like godfathers.'
The party said 'the baseless euphoria and unfounded pipe dream to supplant the PDP in the Nigerian political terrain by these disorganized groups is at best as a result of hallucinations or merely a banal propaganda ostensibly orchestrated to divert the attention of Nigerians away from their failures.'
It therefore called on it's members and supporters nationwide to ignore the 'fantasies flaunted by these groups and those who run their political associations as conquered territories. All our members should brace up and continue to close their ranks and prepare for victory at all levels in the forthcoming 2011 general elections,' the Professor Alkali added in the statement.