WHAT MEN LIKE ABOUT ME — LUCCHI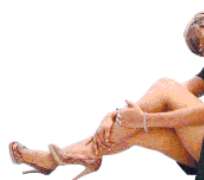 Lucchi
Any one looking at Oluchi Odumegwu, a popular female musician who goes by the stage name, Lucchi, would think that she is a lucky woman to have attained her current status. Perhaps! However, the truth is that stardom did not just drop on the lap of this budding musician. She toiled before recording a breakthrough.
First, Oluchi searched for a job for long after graduation. But she was smart enough to heed her father's advice. Her father asked her to create jobs for herself and others. Today, that singular advice has caused a turn-around for this lady. She's not only comfortable but also making waves in the entertainment industry. She signs highlife. And she's an excellent stage performer.
In this interview, Lucchi, a graduate of Business Administration from the Nnamdi Azikiwe University, Awka, Anambra State, talks about her challenges and expectations in life.
What was your growing-up like?
It was fun and not too rosy. My dad owned shops at Main Market, Onitsha. He was doing wonderfully well until something happened, which was unknown to us and his business started recording low patronage. Things turned around and everything he had vanished and we moved back to the village. We all started struggling to help mum and dad and to fix ourselves. But I thank God because today, the story has changed.
What kind of music are you into?
I do music, hip hop, R&B and high life. I am trying to go into high life full time because it is ever green. I do R&B because it's the vogue, but my spirit accepts high life. Moreover, the inspiration high life music gives me is unique. It's totally different from what R&B does. Now I do R&B and hip hop. My coming album is mixed.
How did it start?
Actually, music has been there. It is in the lineage. My grandmother was a singer. She was one of the people that sang in the square. She had a glorious voice that whenever the community had events, she would be called to sing. At the end of the day, she became a choir mistress. I think that was where I inherited it. I am not the only one singing in my family. My younger sister sings too. I grew up to find myself singing. I remember then in my family, whenever we wanted to pray, I would be the one to raise the praise and worship songs. It was just my duty. Nobody dragged that with me. Then I was five years old. Professionally, I started music in 2002, before I got admission into the university. Andy Best was my first sponsor. He was the first person who gave me money for my demo. At a time, I held on in order not to be distracted from going to school. When I graduated in 2006, I looked for a job but I did not get it. In 2008, I decided to go into music full time.
How do you compose your songs?
I compose songs from things around me. I compose too, from my everyday experiences. These inspire me to compose and, sometimes, when I think of the awesomeness of God, I compose as well.
How has life been since 2008?
Life has been good, by the grace of God. I must tell you that Nigeria is a good country. We are endowed with so many things that other countries do not have. But because of the mismanagement of the economy, we are all facing the challenges of the Nigerian economy. In Nigeria, you have to work hard to make it. It is not a place where you just sit and cross your legs and wait for manna to come down from heaven for you. I am working my way to good things and I know that my hard work will earn me fortunes. It has not really been easy but I must keep striving and persevering.
You are a stage performer. How often do you get jobs?
I get jobs every weekend. I perform in parties, anniversaries and international shows. I was even invited recently to perform in Ghana, but I could not make it because I was engaged with some jobs here. To be frank, jobs are coming.
Is your career financially rewarding?
Yes, though the money has not started flowing in big, as it should. However, money is coming in.
What have you been able to achieve?
I have been able to rent an apartment for myself. I have a house to lay my head after a day's job. I have not built mine, but it is something that must happen. I also have a car. So, I am comfortable.
What was your parents' reaction initially?
My dad is so proud of me. There was a show I organised last year December, entitled, Night of Swagger. I invited a lot of artistes, like MC Loph of Osondi Owendi, Princess from Ghana, La-Prince from Cote d'Ivoire and some others. It was a big show and I did it in Ihiala, just to create awareness. I wanted to let my people know what their daughter is doing. Charity, they say, begins at home. My daddy and mummy were all supportive. Even when I was reading Business Administration in school, my dad told me that it was not my calling. He advised me to go into acting or music. I am happy that they appreciate what I am doing and they also pray for me.
Aside music, what else do you do?
The only thing I do is to change wardrobe for men. I sell men's wears. I sell to those who cannot go out for shopping. They place order and I deliver.
How do you get them?
I meet them just like every other person meet their customers. I approach them and tell them what they need. Maybe they don't have time, except when they travel and even when they travel, they may not have the time to go for shopping. I make designs for them and make home or office delivery.
Have you ever been sexually harassed?
No.
Do you have role models?
My role model is Onyeka Onwenu. I like her because her songs are inspirational and motivational. When you listen to her songs, your spirit will be high.
Have you ever met her?
Not yet. But I am hoping to do that one day.
What are your challenges?
The world itself is challenging and there are many challenges in the music industry, especially that of n piracy. In terms of shows, you may have two or more in a day, at the same time. If you don't meet up or plan you programme well, you may just let go some. As they go, the money goes with them.
How much do you charge for a show?
It depends on the event and circumstances, but I think I will withhold that.
What are your likes and dislikes?
I like honesty and being oneself. I don't like pretence. I prefer that people show me who they are, so that I will know how to handle them.
What is unique about you?
My voice is unique
What attracts men to you?
Beauty, they say, is in the eye of the beholder. You never can tell what attracts them. But most men like my dimples.
Are you into a relationship?
I don't like talking about it.
What is your most embarrassing moment?
I had a show sometime ago at Lekki, Lagos. There was a heavy traffic; so, I decided to pick a bike. I told the Hausa guy to take me to V.G.C and he took me to V.C.P. When he took that road, I thought he wanted to maneouvre some traffic. Surprisingly, he stopped and asked me to go down. I told him I was going to V.G.C and not V.C.P. It caused a scene. People gathered and were looking at us. It was just so embarrassing to me. I just ignored him and boarded another bike.
What is your most memorable day?
It is a sad one. It was the day my immediate elder sister died. It does not go off my memory because she was not sick. We were all in our house and she left for the hospital because she was having some pains. She was married and was pregnant. The next thing was for the doctor to tell my father that she was dead. It was just like a movie. It was very shocking and painful.
What are your expectations?
I expect to climb to the top and to be known in the world. I also want to meet people that would affect my life positively.
Are your shows going to be annual?
Yes, but I won't be able to organise it this month. I hope to do that during Easter period next year. This time, it maybe in Owerri, Enugu or Lagos.
What is your message to your fans?
I want them to continue to be there for me, as I will not let them down. I will also try to meet their expectations.