IMMIGRATION RESCUES 22 HUMAN TRAFFICKING VICTIMS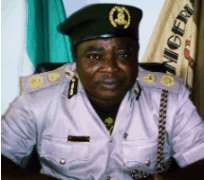 •Gbuuga
The Nigeria Immigration Service (NIS) Akwa Ibom State Command has foiled an attempt to condemn 22 youths to forced labour and possible prostitution. The breakthrough against suspected human trafficking and child labour was recorded last Saturday, December 4, when NIS officials intercepted and rescued 22 people, six of them teenagers, at a popular motorpark in the state's capital, Uyo.
All the 22 prospective victims of forced labour; an equal number of boys and girls, are foreigners; one Ghanaian and 21 Togolese nationals. According to Mr. Emmanuel Gbuuga, the state's Comptroller, 'none of the victims had valid travelling documents'. Of the lot, only three have their national ID, while another three hold membership cards of political parties in their country. 'This is total breach of ECOWAS protocol on free movement of people within the sub-region', said Gbuuga.
'Through our interrogation, we discovered that they were promised good jobs in Gabon by one Solomon, a Lome-based Togolese'; but, since none of them have any letter of appointment, this 'presupposes that they have been recruited for menial jobs or they were to provide cheap labour', he said.
According to him, further interrogation revealed that the said Solomon paid transport fares for the 22 wayfarers from Lagos to Oron in Akwa Ibom State, where they were supposed to have been received by one Kosbe. Solomon was also expected to join the travellers later. However, following the victims' interception, Kosbe; who got wind of their rescue, had since gone underground.
Although Gbuuga said that officers and men of his command are on the trail of Kosbe, believed to be resident in Oron; it was learnt that gathering more information had become difficult following refusal of the victims to co-operate with the authorities. Their reticence is believed to have been prompted by calls from Kosbe to one of the victims via phone numbers 08026561138, 08020840439, 08037857493 and 07084569142.
Interestingly, none of the victims seem to know the address of Solomon; their supposed sponsor. However, investigations revealed his phone number is +229 93226902. This has brought a twist into the picture, for the country code of this number reveals the man could be operating from Benin Republic. All of these led Mr. Gbuuga to declare: 'From all indications and interrogations, this case has all the characteristics of human trafficking and child labour and recruitment of cheap labour for export'.
Shedding more light, the NIS chief said, 'There is; recruitment, transportation, deception, debt bondage and irregular migration'. Comptroller Gbuuga again: 'Human trafficking and child labour are evil; it is man's inhumanity to man and modern-day slavery, which should not be allowed to thrive. It is a fight we must win through collaborative effort and determination to eradicate it in Akwa Ibom State'.
Gbuuga said that he and his team are determined to make the use of Akwa Ibom as transit route very unattractive and unprofitable. 'We shall intensify our efforts and discourage human traffickers from using the state as a transit route for their illicit trade', he vowed.
While warning 'all those involved in the evil occupation of human trafficking before they are caught by the long arms of the law', the Immigration boss subsequently appealed to the general public to be vigilant and to report the presence of suspected human traffickers/victims to security agencies.
According to a statement, dated December 6, 2010 and signed by Mr. Gbuuga; the lone Ghanaian among the lot is an 18-year-old male, Kassim Husseini; while the names of the Togolese, beginning with the youngest victims were given as Daina Adjanassa (15), Aisha Amadou and Limazie Ama (both 16) all female; Julienne Gun (31, F), Latif Rouma (male, aged 30), Celogo Kossi (38, M), Dotse Adjo (20, F), Tchoghlo Edviche (29, F), Yawari Ekouele (31, F), Piche Ekpau (38, M), Daligissim Gnoulelang (21, M), Neridim Geram (21, M), Nimeni Kolman (25, M), Falimbou Mplebe (19, F), Theresa Labi (20, F), Moumouni Deman (28, F), Albanda Aminou (20, M), Adam Abdurazaq (25, M), Oubo Kondei (23, M), Bawini Dejima (26, M) and Chilalou Kouliume (19, F).