Atiku Tells Anenih: 'You Are A Political Dead Duck'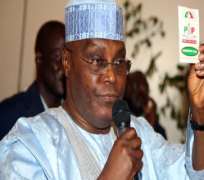 San Francisco, Dec 07, (THEWILL) – The Northern Political Leaders Forum (NPLF) Consensus Candidate in the Peoples Democratic Party (PDP) Presidential primaries and former Vice President, Alhaji Atiku Abubakar today took a swipe at former BoT Chairman of his party, Chief Tony Anenih following his Monday statement that there is no vacancy in Aso Rock come May 2011. Chief Anenih was reported to have spoken in Benin City, Edo State.
A statement from the Atiku Campaign Organisation said that Chief Anenih should not be taken seriously, describing him as a desperate 'political dead duck' that has lost relevance because of his antecedents.
Recall Atiku and Anenih used to be members of the PDM, political machinery founded by the late Shehu Musa Yar'Adua.
"Nigerians should be wary of the utterances of Anenih. The sovereignty lies with the people and not with Anenih. He does not have the mandate to speak on behalf of the people who are yet to cast their votes in the 2011 elections.
"If indeed, the Presidency is not vacant, then there is no reason to conduct a Presidential election in 2011 because the winner is already known according to Anenih's odd theory of democracy, " the statement said.
Atiku described Anenih as a desperate political jobber who has lost his home base in Edo State because of his unpopularity and wondered why someone who could not deliver his state to the party would promise to deliver the presidency to President Jonathan in 2011. He urged President Jonathan to distance himself from Anenih if he is sincere in his promise to allow INEC conduct free and fair elections.
The former Vice President said: "As the Chairman of the defunct Social Democratic Party (SDP) on which platform Abiola contested the election, he chickened out rather than fighting like a man to defend Abiola's mandate.
"He was an opportunist who fixed an appointment for himself with the late Abacha military regime while Abiola was languishing in jail.
"And while serving the Abacha administration, he became a major political consultant for the actualization of the General Abacha's self-succession agenda."
While accusing Anenih of championing electoral fraud over the years including orchestrating the failed third term bid of former President Olusegun Obasanjo, the statement said: "It was the same Tony Anenih that declared that Aso Rock was not vacant because of plan to cause massive rigging and destroy voter sovereignty. Outside rigging, for which he is a notorious expert, Anenih cannot win a single vote anywhere."