I do not wear clothes that expose my endowments –Princess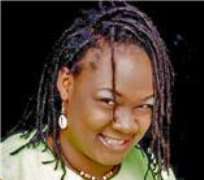 Call it good looks or good luck, comedian Princess, whose real name is Damilola Adekoya, has an aura around her that will melt anyone's heart with unrivalled ease. Her amazing sense of humour and commitment to her work have made her one of the topmost comedians active in Nigeria today.
A product of the Department of Creative Arts, University of Lagos (UNILAG), Princess is an actress and currently blazing a trail as a stand-up comedian. Among the TV series she has appeared in are Flat Mates and Super Story. She had wanted to become an engineer before fate pulled a fast one on her and she ended up in the arts.
Interestingly, she confesses that she has found peace and fulfilment in what she does. Having spent few years on the comedy scene, many may think that she is been around for a long time.
In a chat with Klieglights, she shares some of the moments in her life as one of the leading female comedian Nigeria could be proud of.
For her, acting is a natural calling.
She started acting at the age of six.
When she was nine years old, she took part in a play entitled: Half Human, Half Animal. The play was staged at Ijebu-Ode and that was her first major stage play.
She kept on acting up to a point that she stopped it because of difficulty in combining it with work as an engineer.
Her words: "My first experience with the movie industry was not pleasant. Way back in 1997, I registered as a member of the Actors Guild of Nigeria (AGN). Things were so terrible to the extent that we were treated shabbily. There was so much politics, people would use you for their movies and they would not like to pay. I lost interest and went into stage and TV. I, however, took part in Tunde Kelani's Campus Queen."
In 2001, she met Kayode Peters and started participating in stage productions with Theatre 15 at the University of Lagos and the MUSON Centre.
During that period, she took part in such plays as Armageddon, Black Sheep, Mama and Private Lies among others.
Though she loves comedy, she was on and off until 2004 when she met Wale Adenuga who saw in her a comic character.
Prior to that time, she had played many comic roles in some of Kayode Peters' Productions.
On how she met Tunde Adewale, the popular comedian known as Tee- A: "Tee A used to come around for our stage productions and he had seen me and we became friends. I used to go for his programmes and he used to watch me too," she said.
Talking about the possibility of her getting married soon, she revealed, "Well, I am not in a hurry to get married because I don't believe in rushing into things. I think I should put it in two ways. One, I have not found the man that I can marry. I have not seen a man that wants to marry me. It is not that I have not come across potential men, but it is not my style to meet a man and jump into marrying him simply because he is rich or handsome because such marriages sooner or later will hit the rocks. I would have been married more than three times but what would be the fate of children from such marriages that are hastily contracted? I want to take my time and wait for the right time and the right man.
"I don't use my natural endowments for undue advantages. If you know me well you would observe that I conceal my boobs as much as possible. I don't wear see-through clothes and such wears that expose my endowments. Somehow, men know that those things are there; they cannot but keep guessing".
The funny woman was born in FESTAC Town, but grew up in Satellite Town and Mile 2 Estate, all in Lagos. She had most of education in the former federal capital before she went to the Federal Polytechnic, Ilaro where she earned an OND in electrical electronics engineering. UNILAG came thereafter.