A Ghanaian becomes Mayor in Slovenia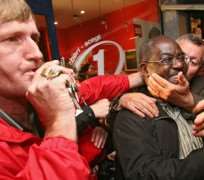 It is not likely that you've ever heard of the coastal town of Piran in Slovenia. One of the few black people there is a 54 year old man called Peter Bossman, originally from Ghana.
He has just been elected Mayor of Piran.
The "foreign" shores of Slovenia became his home sometime in the 1980s, where he trained as a medical doctor.
But politics is entrenched in DNA, so he found another home with the centre-left Social Democrats party in his new country.
And then he organised a huge political campaign, leading to his reward as the first black mayor of the former East bloc.
His victory is not comparable to the tsunami caused by Barack Obama in America. Nevertheless, he has earned the nickname, "the Obama of Piran."
During the campaign, Peter Bossman had a surgeon's confidence – the kind that reassures a patient during surgery.
Now he is only full of smiles – the kind of smile victory brings – especially for an immigrant turned citizen, and now Mayor.
Peter Bossman's victory is particularly significant because he ran against an incumbent – Tomaz Gantar – and beat him narrowly with 51.4% of the vote.
Where is all the suspicion that a black skin will get you no where in any place outside Africa? Of course even Obama's ascent to the White House is no proof that racism is now history.
But it shows that racism, where it exists, can be unnecessarily overstated.
Too, racism does not always originate from white to black – it goes both ways. But that is not a problem for Peter Bossman – and he says his skin colour at the moment is not a liability.
"There are always small groups of people not accepting people who are different and in the first months after coming to Slovenia I felt that some people did not want to be with us," he says.
But that has all changed.
"… for the last 10 or 15 years, I experienced nothing like that… I have no problems at all and I think people no longer see the colour of my skin when they look at me."
Of course, It is easy to speak of the virtues of a system, once you are declared winner – so Peter Bossman says there is a "high level democracy in Slovenia," leading to his election.
A political analyst, Vlado Miheljak agrees to a large extent, saying the election was a serious test of whether Slovenia was "mature enough to elect a non-white political representative."
Like every politician, Peter Bossman made some tantalising promises during the mayoral campaign, including a pledge to introduce electric cars in Piran and develop an airport and a golf course to boost tourism.
But those promises are not a prominent part of the victory speech of the newly-elector black mayor in Slovenia. "I based my campaign on a dialogue, and I think the dialogue has won," he says.
"Electric cars, an all new airport and a golf course to boost tourism" has more chance of becoming a reality in Peter Bossman's Slovenia, than in his native Ghana.
Peter Bossman knows it – more than anybody else.