STAKEHOLDERS TASK SIASIA ON NATIONS /WORLD CUP QUALIFICATIONS, LOCAL PLAYERS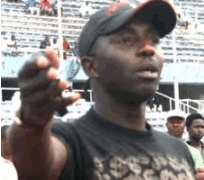 Samson Siasia's walk to the Super Eagles' plum job was long and torturous. It began in 2008, when he was interviewed alongside erstwhile national team coach, Shiabu Amodu.
Till date, speculations are still strong that he came top in that interview session conducted by the then Selection Panel set up by the Nigeria Football Federation (NFF) to interview and pick a good coach for the senior national team. But allegedly, he was shoved aside following the gale of intrigues and boardroom politics that followed the exercise.
Following Nigeria's disappointing outing at the South Africa 2010 FIFA World Cup came deafening calls for Amodu to vacate his exalted job and be replaced by another indigenous coach. Attention was then focused on Siasia to pick the job.
Nigerians had waited with bathed breathe for the formal announcement and subsequent unveiling of the new Super Eagles' coach.
That expectation was scuttled by more intrigues, which cast a blanket of doubts over his impending appointment. Subsequently, hope waned and later gave way to despair.
When the new NFF board members came into office recently, they poured cold water on the coach's aspiration with unconfirmed report that Siasia was the choice of the Nigerian sporting media. That allegation received bigger boost when the Glasshouse in Abuja lined up another interview session to select a coach for the national team, with former skipper, Stephen Keshi, making a last-minute entry into the race. With the battle line drawn, Siasia finally clichéd the position after finishing ahead of his friend and teammate, Keshi.
With his unveiling ceremony finally done on December 1, Nigerians have been speaking on their expectations from the coach, who officially becomes the 26th man to lead the Super Eagles.
Speaking to Daily Sunsports in a recent chat, the Executive Secretary of Association of Professional Footballers of Nigeria (APFON), Austin Popo, who described the appointment of Siasia as 'long overdue', said the right thing for him to do was to look inward for good players in the league to help him succeed.
'The first thing I expect Siasia to do now is to look inward for the players he will be using in the days ahead. He has to look out for the right players to help him achieve his goals and expectations. He knows what he wants and should not forget that Nigerians are solidly behind him, so he cannot afford to disappoint them.
'He knows what he has done in the past with the other categories of national teams, so we expect him to maintain that rhythm. We expect him to use the best players around because it is no longer fashionable in football to field players based on their names.
'As he gets down to work, his biggest challenge is to ensure that Nigeria qualifies for the next edition of the Africa Nations Cup. We are not in doubt of his capability to do that,' Popo noted.
Describing Siasia as a coach with pedigree, the Vice President of African Taekwondo Federation (ATF), Chief Jonathan Nnaji, said the coach's assignment right now was to move the Eagles forward. He added that Nigerians were looking up to him to succeed.
'Siasia is a coach I believe has pedigree as far as football is concerned. His records show that he can move the Super Eagles from its current state of lethargy to a position of prominence and respect in Africa and the world.
'To achieve this, he must adopt a high level of discipline in handling his team. He must shun the much-rumoured cash-for-playing opportunity in the team. If that existed before now, he must eliminate it.
'No one remains young forever and I'm sure he knows that. So, he must hasten to introduce younger players into the senior national team. I'm sure that he had his plans before applying for the job, he must, therefore, strive religiously to meet the expectations of Nigerians.'
However, no one is concerned with Siasia's success as Eagles' coach as his former teammate, Tajudeen Disu, an ex-junior international. Disu maintained in an interview with Daily Sunsports that focus must be the watchword of the new Eagles' helmsman, just as he urged him to go to the grassroots and fish out budding players that would help him to succeed.
'I want to say that Siasia must remain focused in all he is doing. I urge him to visit league venues and pick quality players from there. Many young players who need opportunities to showcase what they have are there.
'Besides, his immediate priority now is to ensure that we qualify for the Nations Cup in Gabon and Equatorial Guinea. Trailing behind Guinea in our group is unacceptable. We simply have to qualify for the championship. He has to go out there and get the job done because Nigerians are looking up to that.'
Disu added that the negative appellation; 'super chickens' the Eagles were labelled at Ghana 2008 Nations Cup was equally unacceptable. He, therefore, urged Siasia to ensure that he erased that negativism within a short period of his reign.
'Siasia should try and restore glory to the Super Eagles, he should make the team a delight. He has a big responsibility in his hands, that is why I said he must be focused and ensure that he uses the right people to achieve his dreams.'
Disu, however, called for support for Siasia, saying that he needed the prayers of all Nigerians and the enabling environment to carry out his responsibilities to the best of his ability.
Veteran sports journalist, Paul Ogazi, who bared his mind on his expectations from Siasia, does not believe that it is the coach's duty to go to the grassroots to scout for players. He said the gaffer needed to build his team around the players in the local league.
Said he: 'To tell him (Siasia) to go to the grassroots and search for players amounts to asking too much from him. Instead, the type of grassroots I would want him to visit is the local league. He has to focus on the league to get the players he will use to execute his programmes.'
The Nigerian Television Authority (NTA) ace reporter informed the Eagles' new helmsman to realise that qualifying Nigeria for major tournaments in the days ahead was not negotiable. 'We have the Nations and World Cup qualifications ahead of us. He knows that Nigeria must be at those tournaments. Those would be the major yardsticks to measure his success.