SILVERBIRD CINEMAS DECLARES 'ANCHOR BABY' THE BIGGEST NOLLYWOOD FILM TO HIT THE CINEMA THIS YEAR.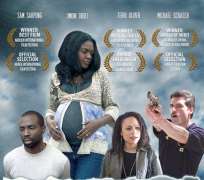 Renowned for outstanding cinema experience of international standards, Sliverbird Cinemas, Nigeria's foremost cinema-house on their Facebook page has recently announced award –winning movie, 'Anchor Baby', as the best film to hit the cinemas this year since Ije.
'Anchor Baby' bags two awards from the Harlem International Film Festival in New York City. First as the best film of the year and nollywood actress Omoni Oboli was pronounced the best actress for her roles in 'Anchor Baby'.
Shot in Canada,'Anchor Baby' tells a story of a married illegal immigrant couple living in the US, Joyce and Paul Unanga. They were ordered by the US immigration to leave the country by voluntary departure. They agreed to leave; but only after Joyce who is five (5) months pregnant delivers her baby inside the US. This will guarantee automatic citizenship for their child. Ignoring the deportation order they received from the US immigration service, the couple goes into hiding. Along the line, Paul was later caught and deported back to Nigeria while Joyce stayed back to struggle on her own to achieve their American-dream. The love, hope, pain and struggle to survive will leave the viewers spell-bound.
The movie featuresA 'list actors like Omoni Oboli, Sam Sarpong, Terri Oliver, Colin Paradine, Michael Scratch, Mark Cassius, Rachael Ancheril, Cyrus Faird, Santiago Lopera, and Chris Patterson and about 60 extras.
Adding to the gaiety of the movie, 'Anchor Baby' has been officially accepted to screen at the 'Fans of Film' film festival in Albuquerque, New Mexico".
'Anchor Baby' will be premiered at the Silverbird Galleria, in Lagos on the 9th of December, 2010 and will hit cinemas across the country on the 10th of December.