Pastor Bakare on the $50,000 Jonathan bribe attempt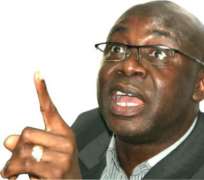 It wasn't bribe, just transport money' - Pastor Tunde Bakare
Rev. Tunde Bakare, senior pastor of Latter Rain Assembly, and convener of Save Nigeria Group (SNG), has denied claims by Sahara reporters that fifty thousand dollars was offered to members of the group as bribe in exchange for their support, during a recent visit with President Goodluck Jonathan.
In a telephone conversation with huhuonline.com, Rev Bakare said, "We visited the president, we made our position known to him, and were offered transport money, but we rejected it, based on integrity. "It was not a bribe" he affirmed
Click the link below to go to ...