Ghanaian Actress Yvonne Nelson launches Glaucoma Foundation & releases star-studded charity music video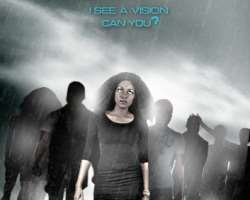 Ghanaian actress Yvonne Nelson recently launched the Yvonne Nelson Glaucoma Foundation (YNGF). Yvonne was inspired to start her Foundation after a close family member became afflicted by the disease. Glaucoma is a progressive disease which affects the optic nerve. It is known as the "silent thief of sight" and is the second leading cause of blindness worldwide.
Yvonne hopes that the foundation will help raise awareness of the disease, encourage people to get tested and also lobby the Ghanaian government and pharmaceutical companies to ensure that Glaucoma medication is available and affordable to the thousands of people who are affected by this disease. YNGF has already started working with the Glaucoma Association of Ghana and they are gearing up to visit towns all around Ghana to carry out free Glaucoma diagnostic testing.
A few weeks ago, a launch event for the Foundation took place at the Golden Tulip Hotel in Accra and a charity music video was released to support the cause. The video features Yvonne Nelson alongside Sarkodie, Edem, Fresh Prince, Trigmatic, Bola-Ray, John Dumelo and Majid Michel.
At the foundation launch event, Yvonne said "600,000 Ghanaians are reported to be suffering from Glaucoma so I urge everyone to get screened for the disease."
This is definitely a great cause to support. Diseases such as Glaucoma do not receive adequate mainstream media coverage, therefore many people do not know that it exists. Glad to see Ghollywood stars getting involved in non-profit activities as well.
In other Yvonne Nelson news, her new movie, "Crazy" premiere at the National Theatre in Accra on Friday, 26th November 2010.