'SO WHAT IF I PLAY PROSTITUTE?'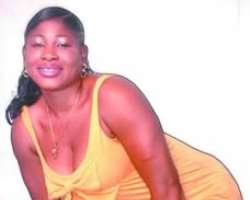 Fast rising movie star Oyedele Adebola is piqued by the bad impression viewers have of actresses that act as prostitutes. To this end, she has vowed to make a difference.
The University of Lagos (UNILAG) student says: "I can act as a prostitute though I have not acted as one before. Nevertheless, I believe that viewers should not cast aspersion on actresses playing prostitute, as they are only depicting the character to compel a change of attitude among the real whores."
Speaking about her love life, Bola said that she has a guy who's home with her love for acting. However, she preferred not to make him public yet.
"I have a man in my life but I won't like to make him public for now because a proverb says that what is preserved appears genuine and lasts longer. I need to hide my fiancée from the public eye," she remarked.
The Catering and Hotel Management student extolled the film makers most especially Yoruba movie producers saying they are hardworking and diligent.
"Nollywood is gathering momentum. I witnessed the production of a film "Asa" (culture) produced by Fathia Balogun at Ikorodu recently, I was convinced that there is a drastic improvement in film making as the equipment and creativity employed are unprecedented in the industry," Bola declared.
The charming actress has featured in flicks such as "Ekuro", "Sababi", "Iwapele", "Maku" and "Ale" including yet-to-be released "Ipin Aise" and "Igi Agunla".