HOW NIMASA DG WASTED BILLIONS, BY AUDITORS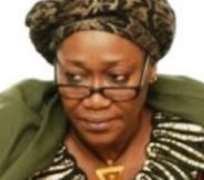 Farida Waziri, EFCC Boss
Director-general of the Nigeria Maritime Administration and Safety Agency [NIMASA] Mr. Temisan Omatseye and the agency's board circumvented due process by splitting, overpricing and awarding contracts worth billions of naira beyond their approval threshold, according to a forensic audit report into the agency's activities recently submitted to its parent Ministry of Transport. The contracts were awarded in local currency worth N5.127 billion and in dollars worth $1.863 million (equivalent to N279 million) from January to June this year, according to the 19-page report exclusively obtained by Daily Trust in Lagos at the weekend.
Mr. Omatseye and two directors of the agency detained and questioned by the Economic and Financial Crimes Commission on Wednesday last week in connection with the allegations, but were released on administrative bail last Friday.
EFCC's spokesman Femi Babafemi said Omatseye as well as NIMASA's director of Finance Malam Jarma Bulama and the director of Procurement Alhaji M.K. Shehu all had their passports seized.
The audit and investigation report commissioned by Transport Minister Alhaji Yusuf Sulaiman said NIMASA awarded 451 contracts during the period at the total cost of N5.4 billion. The report also said it detected fraud in refunds, cash advances and supplies.
Contracts approved beyond the threshold as set by the Bureau for Public Procurement [BPP] were valued at N2.437 billion, in addition to another set of dollar-denominated contracts worth $1.863 million.
The report said out of these figures, the director general awarded contracts worth N236 million and the board of the agency approved the award of contracts worth N2.237 billion.
'This grossly violated the extant rules and regulation guiding the award of contracts as stated on the Federal Government of Nigeria Financial Regulation F 2905 and the thresholds prescribed by the Bureau for Public Procurement. The Director General unilaterally approved contracts valued at N236, 068, 400.00 and $1, 863, 000,' the report said.
Contracts split during the period, apparently in order to avoid the tenders board, were worth N223 million, the report said. 'Evidence shows conclusively that there were deliberate acts of contract splitting…. If proper procedure was followed, this (split contracts) would have gone to the parastatal's tender's board,' it added.
The report said between January and June, a total of N130 million 'was unjustifiably filtered away due to gross overprice of contracts.' In January, it said, 'a contract for the supply of a 2000 KVA Perkins generator was awarded to Daniel Holdings Ltd at the sum N129, 294, 080 while the market price for that generator specification is N89,000, 000, a drain of about N40,000, 000 from the coffers of the agency.
'Anchor Offshore Services Ltd on 1/2/2010 was awarded a contract to supply 100 units of Blackberry smart phones at the cost of N22,050, 000 while the going market rate for the most expensive Blackberry set is about N120,000. About N10,000, 000 was drained out of the system due to this overprice.
'Diesel Oil (Ago) meant for generators were supplied at the rate of N149.3 per litre, while the market rate during the period under review was N114/litres. Judicious spending was thus jettisoned.'
Other expenditures questioned by the report include printing and stationery (N48.5 million), furniture maintenance (N29.8 million) and board/committee operational expenses expenditure (N32.5 million).
The audit also alleged what it called 'flagrant abuse of disbursement procedure' in cash advances, where about N337 million was paid out as cash advances to settle purchases and other sundry transactions during the period, in contravention of the Financial Regulations of the Federal Government.
It gave instances of such cash advances to include N13 million paid in February to Lawal Saidu to carry out various repairs and maintenance work, and the payment of N9.5 million to Abraham Dike as cash advances to supply ship safety equipment and spare parts.
'These are just two examples of an inappropriate procedure in existence. Government funds are paid into private accounts which contravened the provision of FR 713 of the Financial Regulation of the Federal Government of Nigeria,' it said.
The audit said also that there was 'abuse of due process' in 'doubtable' refunds of about N59million, including N2.25million to Nwokocha C.N as refunds for concept designs and media coverage expenses and N1.2million to Danjuma Dauda as payment made by him on behalf of the agency for the Ministerial Committee on Investigation of allegation of delay on waiver processing on cabotage implementation.
In March, N131million was paid in one day to different suppliers as the cost of office equipment supplied, where the report said the agency 'simply flung its bank accounts open to various interests.'
The report said there was fraud in the payment into a single bank account to various contractors, like in January and February when a total of about N102 million meant for several contractors was credited to a single account at Wema Bank. Also, about N207 million as payment for various contractors was credited to one Wema Bank account. 'These payments were all approved for payment by the agency's approving authorities,' the report said.
In June, NIMASA's EcoBank account was overdrawn by N99, 926, in contravention of the Financial Regulations of the Federal Government which stipulates that no government account shall be overdrawn.
The report recommended appropriate sanctions for the director general and all other contract approving authorities 'for the deliberate and flagrant violations of extant government rules and regulations governing the award of contracts.' It urged that law enforcement agencies be brought in to investigate and prosecute those found to be behind the alleged fraud.
The audit report was prepared by a firm of chartered accountants, Akin Omorodion & Co., which was mandated by the Federal Ministry of Transport to audit contract awards by parastatals and agencies under the ministry.