NEXT MOVIE STAR LATEST: FOUR HOUSEMATES EVICTED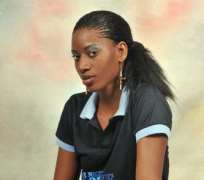 Contestants in the ongoing Next Movie Star 2010 edition featuring 10 African countries are now further convinced that nicking the top prize would not come on a platter of gold. Some days back, Tanzanian, Angel Justaz and Ghanaian hopeful, Dominic Duah were evicted from the show.
They joined Aimiuwu Adesuwa Clifford and Liberian, Harriett White who were evicted on Sunday evening.
According to Clifford who was inconsolable at this stage of the competition, "I am heart broken but confident in the fact that i am now better prepared to take on the acting world. I have been well trained and this is an opportunity i have been dreaming of all my life." In his own view, Dominic quipped, "Life goes on. i will go back to Ghana with my head held high because i have convinced myself and my family that i have a career in acting." There are twelve more housemates in the house battling for the fame and fortune at stake.
Now in its sixth year, the NMS continues to serve as a veritable template for unheralded talents to enter the Nigerian movie industry in grand style.
Over the years, the show has produced countless movie stars including Portia Yamahan, Tonto Dike, Annie Macaulay, Moyo Lawal, Eyo (who was on the last Project Fame West Africa), and Lydia Forson, the Ghanaian contestant in 2007 that went on to become a joint winner of the best actress award at the 2009 Africa Movie Academy Awards.
Kevin Chuwang Pam who won the 2009 Big Brother Africa was a first runner up in the NMS in 2006 while Uti Nwachukwu, winner of the just concluded Big Brother Africa All Stars, was first runner up in the NMS 2007 edition. The 2010 NMS would be broadcast on NTA network every day until December 10.