I'VE BEEN SINGING SINCE 6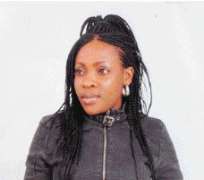 Comfort Daniels
Comfort Daniels, popularly known as Idongetsit, is a gospel artiste and leader of the Sound Track Guild of Akwa Ibom. Fourth in a family of nine, she is the director of Neils Band.
In this interview, she talks about her passion for music, her growing up and life style.
Growing up
My childhood was fine and beautiful. I was brought up in a humble and God-fearing way. I still thank my parents for bringing me up in the way of God. Having known God and followed the path of light, I see reason to be grateful for. In some homes, children do the things they want to do. They keep company they wish to, simply because their parents do not mind or probably because they do not know God. But it wasn't so in my case. If it were, I would have blamed my parents for whatsoever mistake I would have made in life.
I must say that growing up to acknowledge God is not easy. I have sat in the midst of people, including friends and when you want to talk about Christianity, they hate the discussion. Some of them think that Christianity is boring. They do not know that you can be Christians and still be happy. Those days, my mum forced me to attend Sunday School, in church. They made it a point of duty that I must be in the church when I was supposed to. Also, they ensured that I attended choir rehearsals. I imbibed these and they became a part of me. It's my lifestyle. Now if I have not done morning devotion, it will look as if my life is not complete.
Why did you choose music?
I have passion for music. I started singing from age six. I was in the choir. They would just put me on a chair, because I was the smallest in the choir. It was really interesting. It got to a point that I started wondering if I would ever do something else aside music. It may not be generating money, but even the people who have made it in the secular music, started somewhere. One thing that is clear is that if God calls you, He would back you up. Gospel is not about money, but the message you are passing. Things don't happen the way people think, but it would definitely happen. When you are dealing with God, there must be a price to pay, as long as you are not doing it for money. The money would come because the Bible says that he that waters shall be watered.
Aside music, what else do you do?
Another thing I do with passion is hair do. I am a hair stylist.
How do you combine the two?
I have stylists in my salon. They take care of that. It is difficult to take me away from the hair business. Also, nothing will take me away from music. I spend time in the church also, but music takes a greater part of me.
Why are people rushing into entertainment?
It is a personal thing. The people that have made it already in the industry have been there for a long time. I don't think there is anything to hurry about. If you rush into something, you would also rush out. If you do something because another person is doing it, you should also find out what the person did to get to where he or she is. As far as I am concerned, it has to do with time. Even the Bible says that there is time for everything.
What is the message of your songs?
I have a message of encouragement, thanksgiving and worship. I tend to let people know that the only friend that sticks close is Jesus. I have a message for every aspect and challenges of life.
How has life been as a gospel artiste?
It has been so good. There are ups and downs, but as a believer, one has to be positive at all times. When challenges come, I see it as a mirage. I see it as something that has not come to stay. So, life has been the way it ought to be.
What inspires your music?
My inspiration comes from anywhere and at anytime. It could come when I am cooking or in the bathroom. It comes anytime. The only thing I do is that I make sure that my phone is always on me, so that I can record anytime I get inspiration. If I don't record as soon as it comes, I may not remember it exactly as it comes. Most importantly, it comes when I am worshipping God. He gives me outstanding songs when I am worshipping Him.
Who are your role models?
My mother and pastor's wife, Pastor Aity Inyang, are my great role models. I also like Sinachi of Christ Embassy. These are my outstanding role models.
Who do you aspire to be like?
I aspire to be like myself. I admire people, but I aspire to be better than every other person. I want to be who God has created me to be.
What is your most memorable day?
It was the day my album became a reality; the day it got to the market. Each time I sit down to hear my songs on air, it gives me joy. It was just a dream come true.
What is your most embarrassing moment?
It was the day I entered a one chance bus at Mile 2. I went to Trade Fair to buy something with my sister. On our way back, we stopped at Mile 2 to pick something; we entered a bus, not knowing thieves were operating it. They collected everything we had and left us devastated.
Can you assess the entertainment industry?
For me, it is doing well. It is growing, especially the movie sector. They have really improved, compared to what they were doing before now. They are doing well more than the music aspect of the industry. The music aspect of the industry needs to improve. Musicians have to watch and be mindful of the words they use. Rome was not built in a day; so, I believe that we are getting there, like the developed world.
Are you fulfilled?
I am fulfilled because people are appreciating my work. My utmost priority is to see lives blessed. So far, people are appreciating my work and it is enough to tell me how well I am doing.
Are you into a relationship?
I don't think I would like to talk about that.
What are your expectations?
I want to get to the height of the purpose of God for my life. One thing about expectations is that sometimes, it does not come as people want it, but I believe that God could lay something in the hearts of people and they will bless you. I want to see my songs touch more lives.
What can make you quit the industry?
That is where focus comes in. If you are determined, you will be focused. If God is not on your side, you may fall by the way side. I know that God is with me and He will bring my plans to perfection.
What are your weak points?
Everybody has a weak and strong point. I am bold. I have self-esteem and I have charisma. But my weak points are not what I may want to reveal to the press.
What is unique about you?
I like excellence. Whenever I am given an assignment, I like to do it and come out with an excellent result.
Who is your ideal man?
My ideal man must be God-fearing, passionate and kind-hearted. He must love excellence and go for excellent things. He must be focused, with a vision to fulfill.