Genius Agwu: Locating new sense of patriotism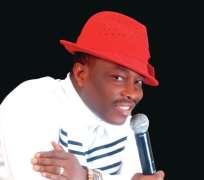 Like several other Nigerian comedians, 'tall' man, Julius 'D Genuis' Agwu, has not missed any opportunity to comically criticise vices in the society. But deep in his heart appears to be a sense of patriotism around which his new album, Genius, is built.
He recently released a video titled, Great People, Great Nation, a tag that echoes the rebranding theme of the Federal Government. Although the content of the work does not ape the slogan, the artiste manages to promote what he believes are very positive about his fatherland, especially in the spirit of its Golden Jubilee Independence anniversary.
"Nigeria is one of the blessed countries in the world and there is the need for us to let the whole world know that we have something that most of them don't have," he says. "We are intelligent and we know what we want. A true Nigerian can never be intimidated. My ambassadorial role is to keep projecting the image of my country in good light."
Other tracks in Genius include Hello, My Baby and Experience, with Agwu saying that his kind of music is the one that imparts knowledge and projects the image of the country, and not songs that will glorify criminality or alcohol just to gain popularity.
He is also still celebrating his 'Best International Comedian' award which he won at the Nigeria Arise Award held in London about a month ago.
The new video was shot in London and directed by JJC, popularly called Skills. Since it premiered on social websites and TV stations, it has steadily spurred applause.
Agwu had also held the Nigeria at 50 anniversary edition of his popular show, Crack Ya Ribs in the London, featuring KC Presh, Jaywon, Anogiri, I Go Dye, Seyi Law, Tunde Ednut, Teju Babyface and other artistes.