OHAKIM SWEARS IN NEW COMMISSIONERS, SAS, OTHER AIDES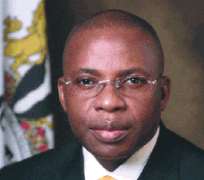 The Governor of Imo State, Dr. Ikedi Ohakim yesterday sworn-in five new commissioners, four Special Advisers  and 36 Senior Special Assistants as well as reshuffling his cabinet.
The newly sworn in Commissioners are: Chief Elvis Agukwe, Hon Levi Oguike, Dr Fredrick Ekwem, Engr Ben Ekwueme, Professor  Nnamdi Obiaraeri and Dr Christopher Eze.
While swearing-in the commissioners, Ohakim charged them to see their new offices as a call to serve but not to come and 'chop.' 'We have redefined the concept of call to service.  In the past, people saw political appointments as a call to come and chop and that perhaps informed the kind of inertia witnessed in the system.' he stated.
He  warned that he would not fail to sack anyone of them found wanting, adding that his administration would not entertain excuses for failure. The newly sworn in commissioners were assigned portfolio with Prof Nnamdi Obiaraeri, (Lands), Hon Levi Oguike, (Economic Planning), Nze Elvis Agukwe, (Information and Strategy), Engr Ben Ekwueme (Public Utilities and Rural Development), Dr Fredrick Ekwem, (Health) and Dr Christopher Eze, (Commerce and Industry).
Those affected in the reshuffle are: Dr. Kelechi Okpaleke who moved from Information to Special Duties, and Dr. Ngozi Anyikwa from Economic Planning to Sports and Youths Development.