Secret Of Marriage? Don't Love Your Man - Christy Essien Igbokwe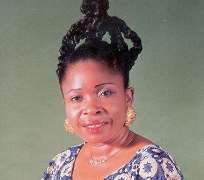 Christy Essien Igbokwe, a singer and actress, celebrated her 50th birthday on Thursday. In this interview with ADUNOLA FASUYI, she speaks about her career, life and aspirations in the years to come. Excerpts:
Two days ago, you clocked 50, how would you describe life at 50 and your aspirations in the next decade?
It has been good and very challenging, glory to almighty God, though the struggle continues. My aspirations in the next years to come is to see Nigeria improve for the better, to see good things happening in the country and for our youths to eschew violence and embrace good values and principles that will develop them and the nation at large. I also intend to continue to touch lives positively through my music and my life.
How long have you been singing and how many albums have you released?
My first album was released in 1976 and I was 16 years old then. In all, I have 10 albums released into the market.
How would you describe the journey so far?
Well, it has been tough, rough and beautiful. Every business has its challenges and good times. I give God all the glory.
What are your major achievements in your career and memorable moments you'd like to share with us?
I have so many achievements. The formation of Performing Musicians Association of Nigeria (PMAN), PMRS, the abrogation of offshore/onshore oil dichotomy was done by God through me. I also helped sustain the existence of Federal Road Safety Corps (FRSC), helped in the actualisation of granting license of private telephony in Nigeria and so on. Numerous local and international awards; I hold so many matronship and extra-curricula positions. Some of my memorable moments are the fact that I singularly at the age of 16 did the negotiation of my first album 'Freedom' with the record label. The man (Mr Anochi) was shocked and astonished at my courage, intelligence, bravery, boldness and charisma. It was after I struck the deal that I informed my manager and to God's glory as I boasted to the man, the album sold like hot cake. It sold over 150,000 copies in Aba alone. Another is the fact that till date, I hold the record at the National Theatre for pulling the highest number of crowd at my show, The Concert of Stars, held between 1981 and 1984. The theatre was filled to the brim that people were overflowing and breaking bottles, destroying things so much that I had to pay for damage. There are so many memorable moments, I can't say it all.
What is that thing you possess that has kept you going and shining in the industry?
First, I think it is because God actually called me to do this, so His grace has kept me this far. And most importantly, the determination to excel and impact on lives positively. I believe in perfection and good quality, so I put in extra efforts in every of my work. When I started as a child then, all I needed around me were a table, plates and spoon and the next thing you hear would be a danceable rhythm, which my foster mother, Mrs. Maria Chukwu, now late.
I think I am blessed with the talent, exposure, skills and the right measure of vocal delivery, as well as God's musical blessing.
How would you describe your genre of music?
I play universal music, which cuts across all segments of the society and appeals to all tribes. This explains why my music is usually laced with Igbo, Yoruba and Hausa languages, including my native dialect.
Considering the fact that PMAN is your baby which you nurtured well at the time, are you comfortable with what is happening there at the moment?
PMAN is sick in the head. And, if the head is sick, can the hands, legs or other body parts function well? However, Nigeria itself has problems. Hope is not lost. Obviously, I am not happy with what is happening in PMAN and in the country generally. If they call for my advice and contribution I will gladly give; however, without a call from them, I will be looking so that they don't say one is meddling in their affairs.
Talking on the wrongs going on in the country, do you see yourself going into politics to contribute your quota to right the wrongs?
Definitely not now because I have not received anything of such from God. I only do things when God gives the go-ahead. I may do politics much later if God says so. However, I can always contribute my quota through my music and I have always done that anyway.
You did some acting back in the days but you've been missing in the show lately. Would you say you've abandoned acting or just taking a break?
No, I have not abandoned acting. Movie producers still approach me to act scripts in their films but I have turned down so many offers. It's just that I have not seen any meaningful one that will really touch lives positively. These days what you see mostly in our movies are devilish, as if we are propagating evil. If I come across a good storyline that is human-touching, why not, I will participate.
You are one of the very few entertainment female stars who have been able to keep their marriages till date. What is the secret?
It has been God. However, marriage is an experience I won't say I enjoy or regret. It is not the best place or worst place to be in. But it is good I did marry; it is good I am still in it and I will encourage people to marry. God has been my strength in my marriage. I have been married for 29 years now and I bless God for His faithfulness.
So you married at 19 years, that was rather early. Were you able to complete your education?
After I released my first album, I had plans to go back to school. Then, I acted in The Masquerade and all the cast were given scholarship to study at Nsukka. The scholarship only covered tuition, so I saved money to pay for accommodation, food, clothing and other things I would need in school, but you know man proposes and God disposes. Just when I was preparing to go to school, my elder sister came with the problem of her children's school fees, other siblings also came with their different responsibilities and difficulties. So, in my kind-hearted nature, I spread all my savings round all of them and before I knew it, all the savings were gone. That was how I missed the scholarship. Before I knew it I met my husband, got married, started having kids and my career was also booming. So that's it.
You mean you have not obtained a degree yet?
No, I have not.
What are your plans on furthering your education or is that the final bus stop?
Of course not. I still have plans to go back to school; it is never too late.
What would you like to study in school?
I will study theology for obvious reasons. To strengthen my spiritual gifts.
What word do you have for young women out there aspiring to be married?
I will say to them that it is a woman that can keep her home because no man is perfect. But the secret is this, don't love your man o, but like him very much so that you can tolerate and accommodate his naughtiness and for the children's sake. Don't love in order not to be disappointed. Love deals with the heart but liking with the head. Above all, God's divine hand is essential.
Can you share with us how you met your husband?
It is really funny and a long story but the shortness of it is that the late Olu Aboderin, former chairman of The Punch newspaper (I called him daddy and regarded him as my dad) was the mediator/middleman between me and my husband. Then, my husband, Chief Edwin Igbokwe, was an Executive Director at the Punch. He saw me and liked me but could not approach me on his own because I was known for slapping men anyhow then. You know, when I started singing, I was told female artistes were seen and treated as prostitutes, so I promised myself and grandma that I would be a different one because I was focused and knew what I wanted. So if any man tried to harass or touch me, I would slap and throw things at them. So people were scared of me and saw me as a no-nonsense singer. So my husband did and said everything through him, if we had to go out to watch movies, daddy must be there and he did all the talking. In fact, Olu Aboderin toasted and made the marriage proposal on behalf of my husband because my husband just could not talk about such to me directly, he respected me and I was really tough. That was how it happened and I got married at the age of 19. Meanwhile, before then, God already told me I would marry at 19 and I told people around me. Also when I married my husband, God showed me I will have four boys and I told him I will have just four children and it happened just like that. Same happens with my songs, God gives me the lyrics to all my albums. He talks to me.
Are you saying you are a spiritual person?
Oh yes, I am very spiritual. Right from childhood, God talks to me and shows me things and it will happen just like that. I won't say I had passion for music, God called me to do it and I could not object. People around me know, some are afraid of me because of my spiritual gift. In fact, there is a friend of mine who ran from me till date because what I say happens. My husband knows too. It is a gift from God. You know, my parents didn't give me Uduak-abasi, it was a name from God Himself and it means 'the will of God'. So everything about my life has been the will of God and if I try to object, I see the repercussion. When my mother was in labour to give birth to me, God told a revivalist in another village that a star was about to be born in my village, told him my father and mother's name and sent a message on my name and what I would become and those people travelled down to my village with the message. I believe in 'live and let's live' and I have never stepped on toes or insulted anyone with my music.