THE ONLY ROLE I CAN'T PLAY IS THE ROLE OF GOD— DELE ODULE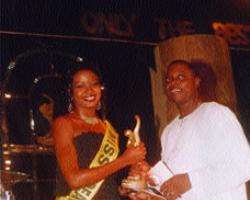 He is a man with a humble background and has acted in films too numerous to mention. He is one of those who strive to develop their stage crafts and took the entertainment world beyond mere acting on stage.
No wonder he is being admired by all and sundry and can stand tall in the entertainment industry today.
To call him just an actor is an understatement. He became an orphan in his childhood age but this did not deter his progress in life.
No wonder he wears the cap of the second in command of the Association of Nigerian Theatre Arts Practitioners (ANTP).
Background
I am a native of Oru-Ijebu in Ogun State. I used to be a teacher before I settled for acting. Even though I don't handle chalk any longer, I can say that I still teach through acting. I pass messages across to people. I am not only entertaining my fans, I also educate them.
Any mystery behind your name?
I am neither a herbalist nor an Ifa priest. I come from a Christian family. Names are significant to your family background, so, I think in those days, my family were Ifa worshipers but my parents were Christians. In other words, I come from a Christian home.
Any circumstances surrounding your birth?
Actually, I lost my parents at an early stage. So, I was not aware if there is any mystery behind my birth. Maybe that would have happened if I grew up to know my parents very well.
Any plan to go back to the classroom?
I am now in school as a student and not as a teacher. I am in 200 level of Mass Communication at Olabisi Onabanjo University, Ogun State.
I know you would love to ask me why it took me so long to return to school. Well, God's time is the best.. You see, it was something that I love to do which was impossible for me.
I had my Diploma 23 years ago at Federal Polytechnic, Oko and I went into OOU through direct entry. I am doing that to fulfil my academic ambition. I also have a Diploma in Theatre Arts at University of Ibadan.
Acting career
I started acting 30 years ago. In fact, I left teaching for acting. I have some people that tutored me before I actually built on this. The late Adebisi Oloko was one of them. I started my acting career with Dele Ogunsanya from Ekiti State.
The environment I grew up actually influenced my artisting career. I was brought up in the village. You know in those days, it was festival here and there, so, I discovered myself during one of the festivals because I could drum, sing and dance. I realised I could actually make a livelihood from these and I decided to give it a trial.
Before this, I was longing to be a preacher even if I would not go to the pulpit. I desired to be an evangelist but I ended up in acting.
My father was a singer at a local level. Blacksmithing and tailoring are the professions that run in my family. We are artistically endowed but I was the first person to professionalise acting. So you could say I may have been either a preacher, a blacksmith or a tailor. A preacher because I tripped for it while growing up, a blacksmith or a tailor because it runs in the family.
Life as ANTP Deputy President?
It's full of challenges and hectic at the same time but it has helped to develop my mentality and maturity. Leadership is not easy because you are responsible to a lot of things.
One House
They have to convince me that I am an old man. Until then, I can't really say they are not enjoying the leadership. Am I old? So, why the complaints? Most of us are referred to as being old, but is there anything we enjoy at the youths' expense? For instance, you are a journalist and your boss is also a journalist.
Do you want to enjoy the same package with him without passing through what he passed through. The problem with many of them is that they don't want to till the ground before harvesting.
Those who understood what we are doing have stayed with us while those who feel they are not benefitting have gone to form their own association.
I am not interested in this. I believe so much in progress and not in selfish interest or ambition.
I want to tell you authoritatively that for them to have said they did not derive anything from the association is an instinct of being self-centered. I could remember that one of the grouses was that members should produce one film per year. If they know the rudiment of the profession, they should have known the decision is a good one.
The last time I produced was in year 2004 because I have to study the market trend which many of them don't want to do. Everybody wants to be producers.
When we started this reformation, we unanimously decided that a producer should produce one film per year not minding the person's status. This decision applies to every card carrying member of the association. So, in what areas were they being deprived of their rights.
They sought for a way to break out because they want to gain recognition overnight. I don't know why they are position-conscious or power-drunk.
Well, they are entitled to their own opinion. I actually don't talk about this because it is no longer my business. The breaking away to form One House have no effect whatsoever, so, why do I have to bother myself.
The film industry generally?
I am not saying we are already there but we shall get there with time. I have to be very practical about this. I think we are trying our best. Few years back, Britain celebrated one hundred years of film production, do you want to compare such country with Nigeria who started in the 70s. Britain has been in practice and has been enjoying the support of her country.
The industry did not enjoy government's support until recently when some politicians decided to exploit one area or the other, maybe because of their self ambition, that is when we begin to see the government getting involved in film industry.
Generally in Nigeria, the film industry is not getting enough support from the government and that is why we are lagging behind. Do you know that the National Union of Road Transport Workers (NURTW) are gaining prominence in Nigeria. This is so because they enjoy the government support and the government actually do this for selfish interest.
The people at the helm of the affairs need the effort of NURTW for a purpose which you and I know about, that is why the government has gone extra mile to support them. It's a give and take situation. The government needs them and trying its best to equip them. They are recognised everywhere and have also enjoyed the government's backing and support.
Is the industry lucrative enough?
It is lucrative if you know how to go about it. Everything in life depends on the way you approach it. Some people will tell you that transport business is not lucrative enough but all these transport company owners like Ekenedili Chukwu refuse to do any other business.
It all depends on management but the way people approach theatre is not the way it should be approached, that is the problem we are having. As I have said earlier, any business that does not enjoy the backing of the government will not survive no matter how you put in your best.
Way out
The government should set up a council. Well, I think they are working on that, like the Motion Pictures Council of Nigeria. They should regulate and standardise this. You don't allow every Tom, Dick and Harry to come into the profession.
Piracy and copy rights?
The government should come in. Pirates should be pursued the way we pursue armed robbers. It is not our duty to be running after pirates. It is sheer injustice on the part of a producer to have embarked on a production and somebody to open a shop and start renting out the jobs in the name of a video club.
Whether you call it piracy or infringement, if you have rented a film and watched it, do you need to go and buy such film again. How do we make money when people don't buy and the token that is being paid to the video club is not remitted to us.
The government should address this. We have Copy Right Council, we have Censors Board but they are not looking after all these. They should exercise their power instead of waiting for us to come and lodge complaints.
His stage craft?
A good writer gets his or her inspiration through the happenings around. My inspiration comes through visible things. I don't believe in fantasy. I always write on things that are real, I want to touch a home. Any time you watch my film, somebody will tell you he or she has experienced it before. I have played different kinds of roles since I started.
The only role I cannot play is to take up the character of God.
Next production?
Time will speak for itself. I have to source for money, study the market and work on the story line.
Can't your name speak for you?
Well, that is true but Nigerians don't appreciate actors. If you believe somebody is artistically endowed, why not look for ways to sponsor the person if you have the means?
Most embarrassing moment?
It is now part of me and I see it as one of the prizes to pay. For instance, if I am not a public figure and I decided to impregnate my sister in-law, many of you might not be interested in the story. But if I choose to do that now, it will become a headline on pages of newspapers. Some people expect that you lavish money on them and when you don't do this, they call you names.
I wonder what we do to warrant this. If a banker will not squander money in the public, why should I? All these are part of what we pass through on daily basis.
You don't feature in English home video why?
I don't see it as a sickness. If they bring their script, I'll take the role but I can't lobby for it. I have participated in several TV productions that are basically produced in English and I participated in few home video because of the maffia involved there.
Since you have been watching English movies, how many Yorubas do you find there or you want to tell me they are not as learned as Igbos. Do you expect me to ridicule myself because I want to appear in English movies.
Things that make him feel bad?
When I see abnormal things like a man weaving his hair.
Your favourite film?
I have produced not less than 10 but my favourite one is Mosope because of the concept and character I displayed there. I came to limelight through Ti Oluwa ni Ile which was produced by Main Frame in 1993.
Experience with women?
Quite interesting. Everybody wants to associate with success.
Regret?
Majority of Nigerians don't appreciate actors.
A red letter day?
When I lost my first born, a 14 year-old boy in year 2004.