Atiku emerges as Northern Consensus Candidate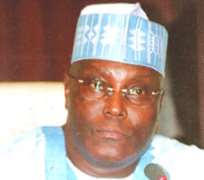 Atiku Abubakar
Former Vice President Atiku Abubakar has emerged as the consensus candidate of the North ahead of the 2011 Presidential election after months of consultation and meetings spearheaded by former Finance Minister, Adamu Ciroma as earlier reported exclusively by Pointblanknews.com.
Atiku emerged from the group of General Ibrahim Babangida, General Aliyu Gusau, Governor Bukola Saraki who are all vying for the presidency from the northern extraction under the platform of the Peoples' Democratic Party, PDP.
Pointblanknews.com gathered that Atiku was named after a meeting of the Northern Elders chaired by Mr. Ciroma. He is expected to square up with President Goodluck Jonathan who is interested in the PDP presidential nomination.
A statement signed by Ciroma and Abdulkadir Sabo-Bello during the announcement said:
"We are pleased to announce that we have concluded our assignment of arriving at a consensus candidate today and one out of the four aspirants who submitted themselves to the process has emerged. He is ATIKU ABUBAKAR."
 
" We are glad and proud that we have finally arrived at this outcome after several weeks of hard work and wide consultations. We are proud because of the unusual honour and extraordinary privilege given us by the four gentlemen who placed their political destinies in our hands. We are humbled by the strength of their faith. We appreciate their humility and cooperation. We have been reassured by all of them that they will work together to enable ATIKU ABUBAKAR clinch their party's ticket in the presidential primaries."
"We thank all Nigerians, supporters and critics alike for their views over these past several weeks. While we note these views and respect each one of them, we insist that no individual, organization or society dreaming of success and greatness can achieve these dreams without respect for others and honouring agreements voluntarily entered into. This is especially so where these agreements have been transformed into a binding document, a constitution, which governs the conduct of those who subscribe to it."
"We call on all Nigerians to reflect on this. We also call on all delegates to the forthcoming party conventions to take these into account while casting votes."

Related News:
-2011: North Adopt Atiku, IBB, Gusau, fight back ...You Are Not a... os4132.html


Readers' Comments