Naeto C Bags His Masters Degree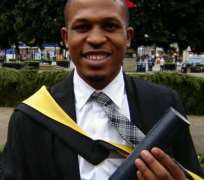 Yesterday (Nov. 17th), multiple award-winning rapper Naeto C graduated with a Master's of Science in Energy Economics from the University Of Dundee, Scotland, one of the leading energy schools in the world. Over the last few months, the emcee had been shuffling between his academic work, touring the globe and recording new material for his upcoming sophomore album – Super C Season.
According to an official press release from his record company Storm 360, 'Naeto C is now qualified to discuss the knotty issues concerning power distribution, generation and solutions for Nigeria at any level and it is this balance that makes him unique'
Naeto C graduated in 2004 from the George Washington University, US with a B Sc. in Biology, and had intended to study further and become a medical doctor. However, after some deep self-searching he changed his mind and decided to pursue a career in music. According to the release, 'Naeto C represents the new modern African youth, focused, professional, multi-tasking and built to win'
Naeto C's sophomore album Super C Season is scheduled for release in December.