Kidnap: Akpabio And SSS Lied - Sam Ewang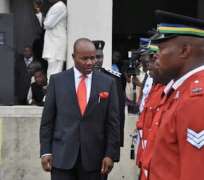 UYO, Nov 17, (THEWILL) - The four persons paraded recently by the State Security Service (SSS) in Akwa Ibom State as suspects in last month's kidnap of Mrs. Comfort Enwang, and the Mobil Pegasus school head, had nothing whatsoever to do with those incidents, a former military administrator of Rivers and Ogun states and governorship aspirant in the state, Sam Ewang has said. Enwang in an SMS exchange with THEWILL in Uyo said, the SSS and the Akwa Ibom State Governor, Mr. Godswill Akpabio arranged the parade as a gimmick to deceive indigenes of the state to make good his plans to win in 2011. "The paraded persons have absolutely nothing to do with the kidnappers of my wife; they are Akpabio's paid kidnap moles. Akpabio and his collaborators are out as always to deceive, confuse and distract helpless people of Akwa Ibom and Nigeria to return to power in 2011." Ewang did not elaborate further when we pressed for clarification. Recall that one of the suspects paraded, Eno-mfon Aniekamauwem, who was allowed to speak to journalists had confessed that his gang was only responsible for the kidnap of Mrs. Ndifreke, the wife of a physically challenged councilor at Ibesikpo Asutan.
A source who witnessed the abduction of Mrs. Ewang had told THEWILL that the scene of the incident at Beulah International Schools, Ekom Iman, near Etinan, was more like a war zone as security operatives could not confront the gunmen because of their superior arms and tactics employed in the execution of the kidnap.
Ewang had maintained that no amount of intimidation would stop him from contesting in the 2011 governorship election.